Regular price
$161.99 USD
Sale price
$161.99 USD
Regular price
$183.99 USD
Unit price
per
Sale
Sold out
$183.99
XMRE Halal Meals: Fresh, Nutrient Diverse and Compliant with Sharia Laws
XMRE offers Halal Emergency Food with its certified and Sharia law-compliant meals. Each case contains 12 rations with 6 menu options and provides 900-1,100 calories of high-quality nourishment.
These Halal Military MREs are great for first responders, public servants, civilians, NGOs, and survivalists in emergency and natural disaster contexts. XMREs meals are nutrient diverse, delicious, and can be heated in the pouch by the flameless heater without water or refrigeration.

With xmre halal, you can trust that your survival food meal kit is lightweight, self-contained, and pre-packaged with utensils in our specially designed portable tamper and waterproof pouch. It guarantees a 3-year extended shelf life with proper storage.

XMREs are made in the USA and exceed the highest military standards and critical requirements of government institutions, global humanitarian relief organizations, and emergency preparedness. 
Halal MRE Menu:
Entrée (Variety of beef, chicken, lamb, tuna, vegetarian or breakfast options),
2-3 side components (Breads, spreads, sides, snack and/or dessert),
fruit flavored beverage, flameless ration heater (FRH) and an accessory kit including spoon, napkin and condiment kit.
All components are packed in high-density water and tamper proof outer bag and embossed with a lot number (pack date) on each bag and case.

CURRENT MENU: Chicken Pesto, Lamb Lentil Stew, Vegetable Barley Stew, Vegetable Lamb Jalfarzi, Beef Roast with Vegetables
Choose XMREs for a convenient, delicious, and nutritious Halal Meal MRE 1000.
Share
View full details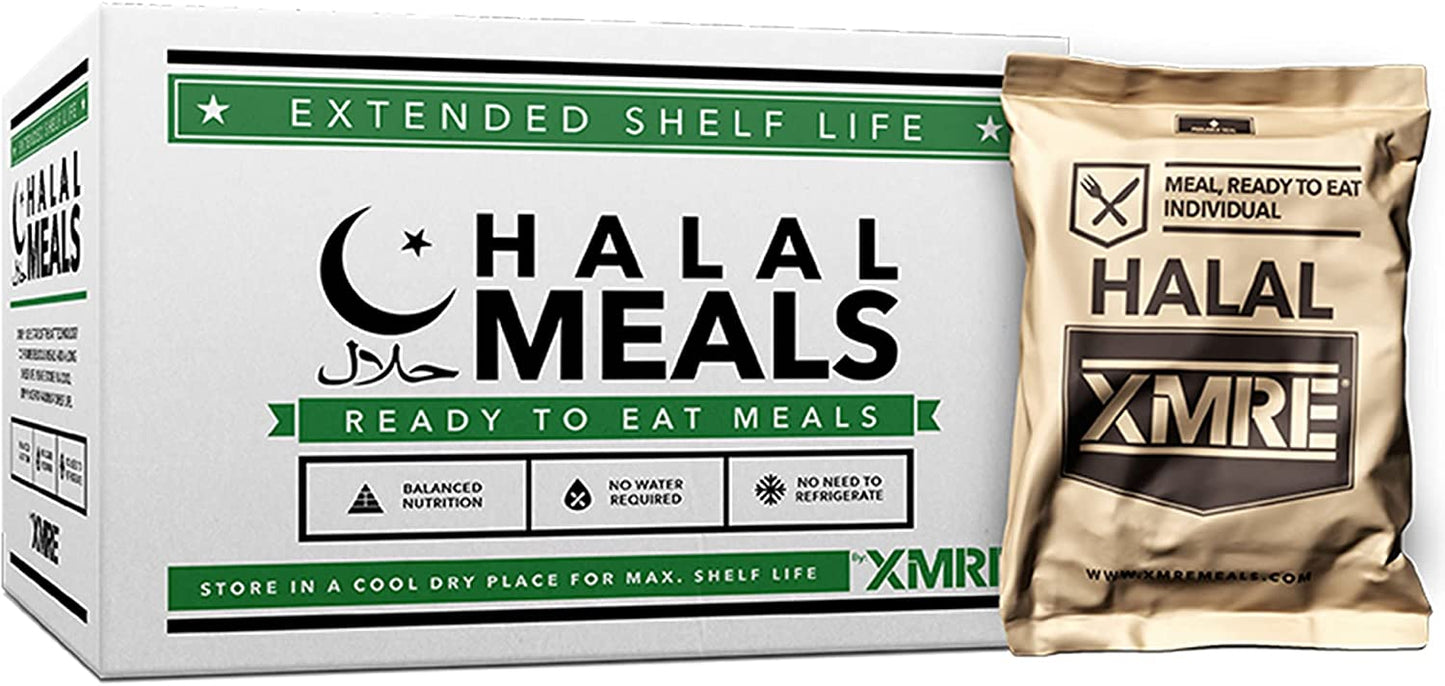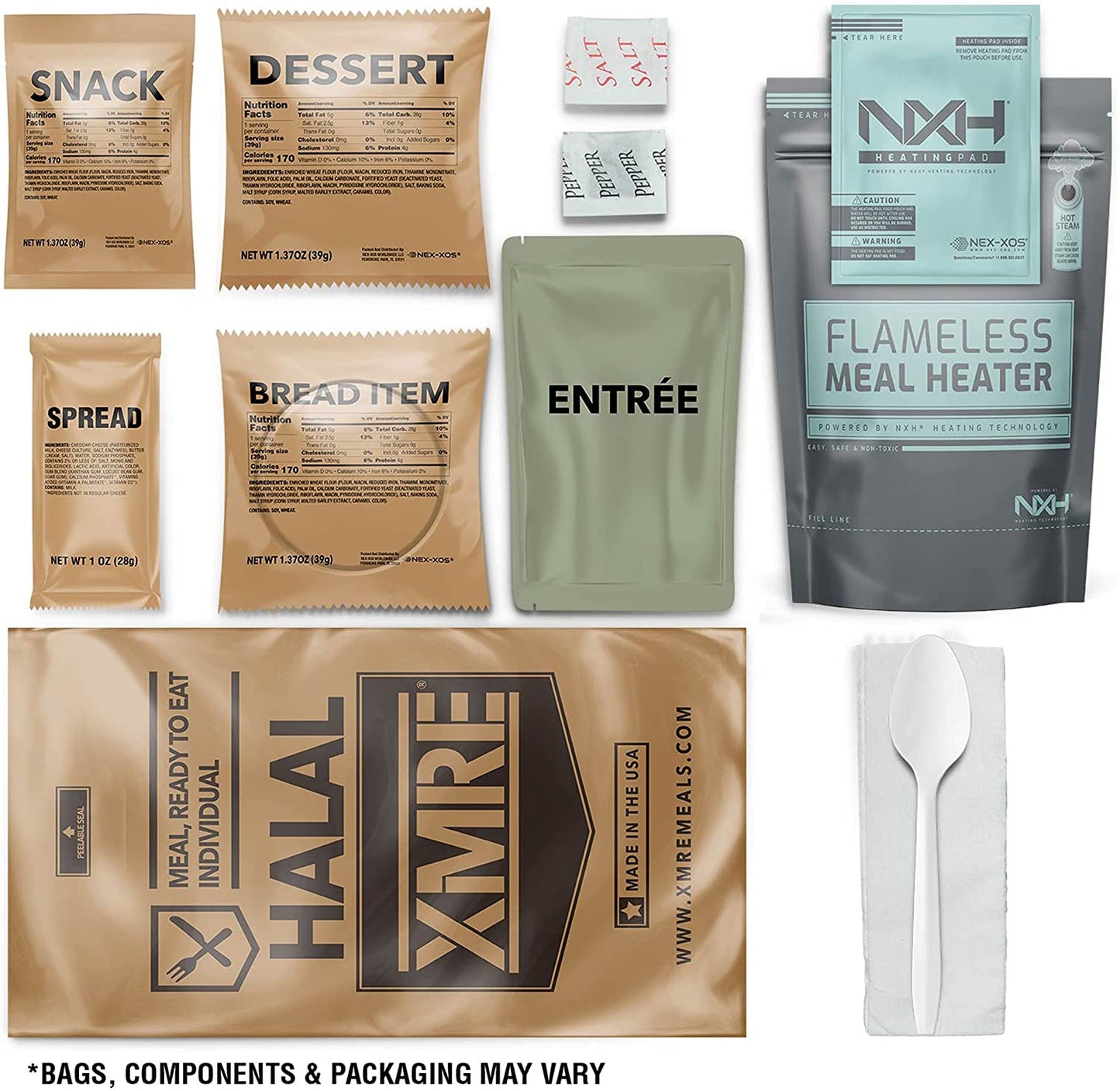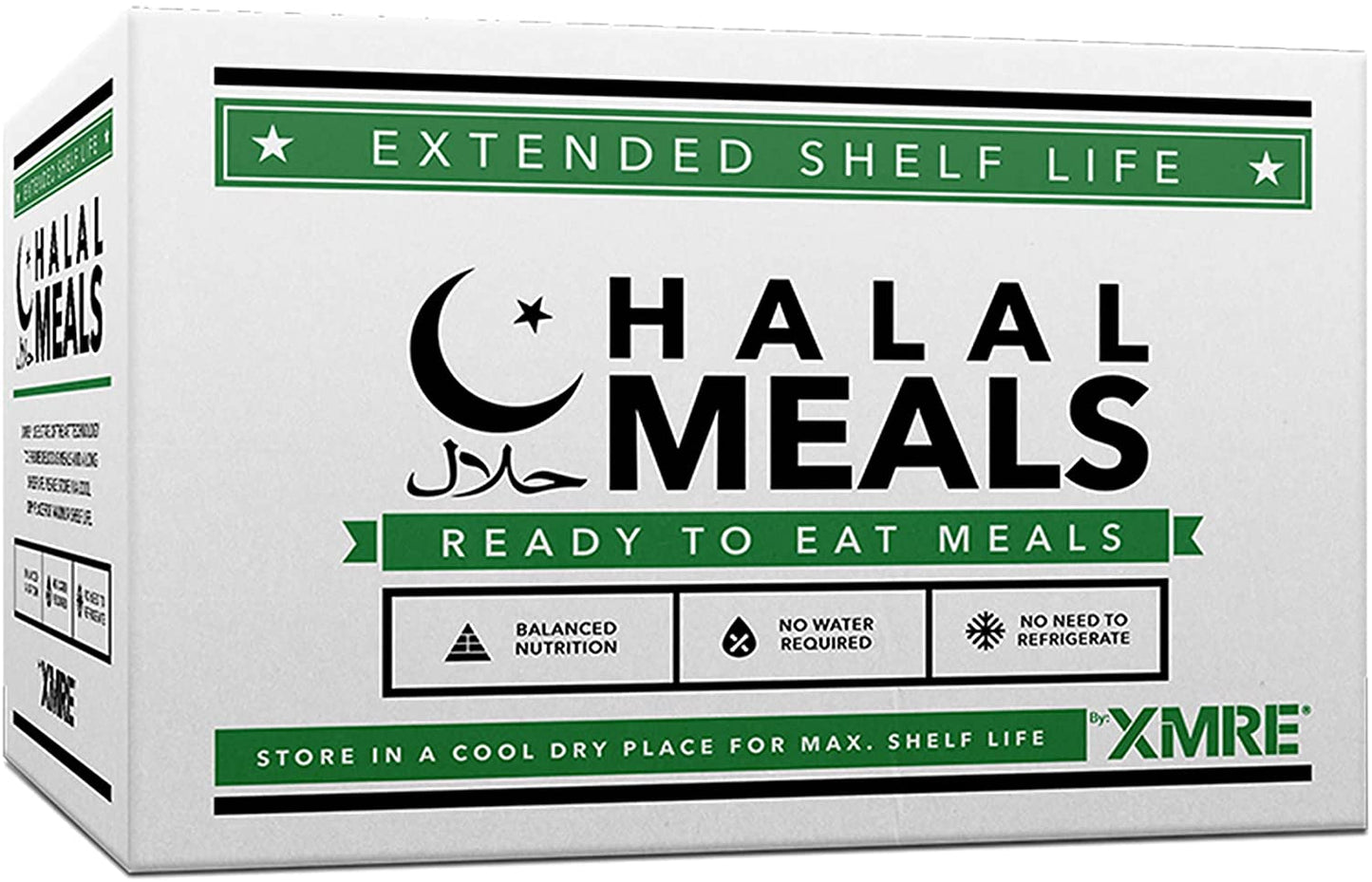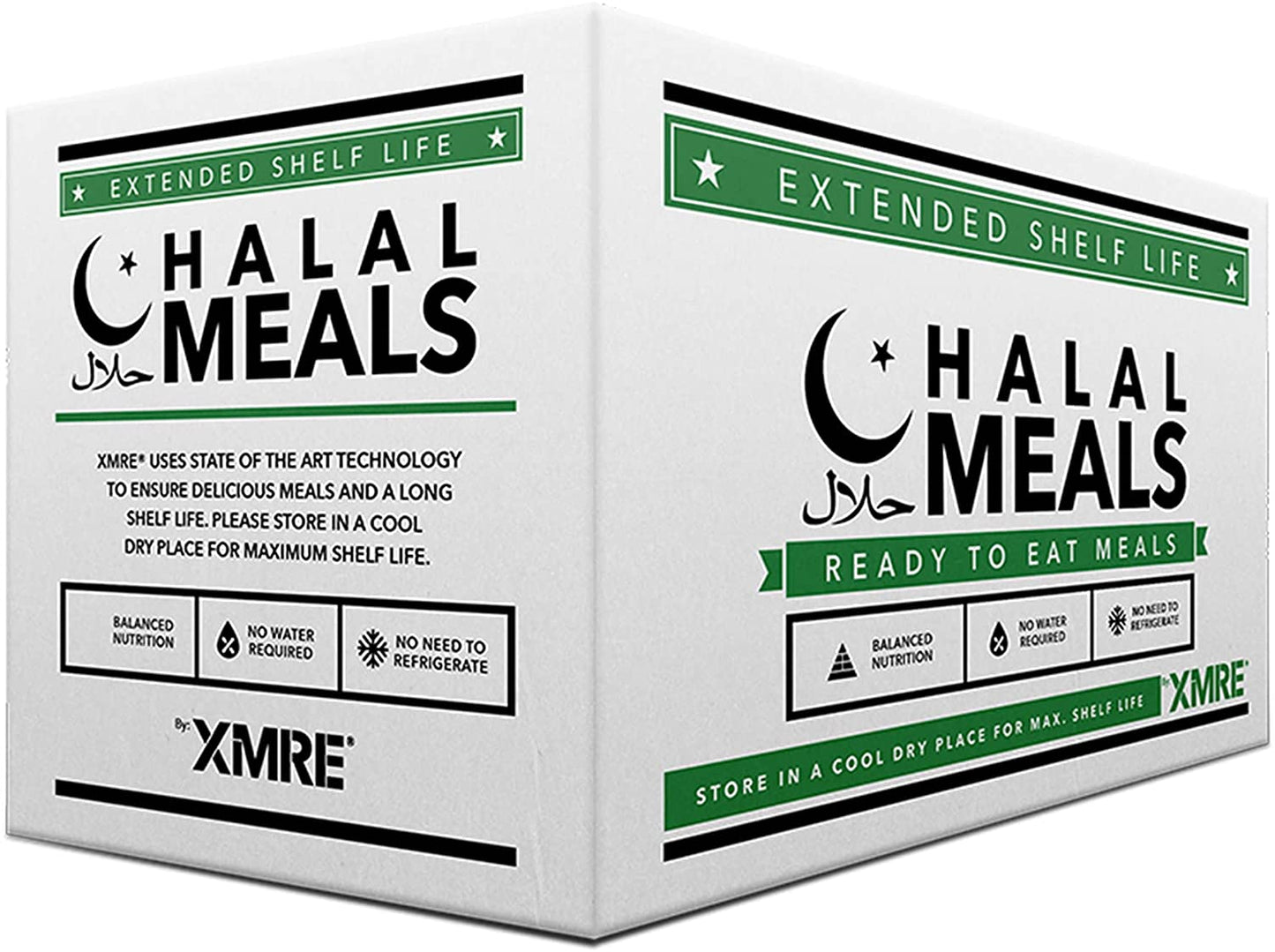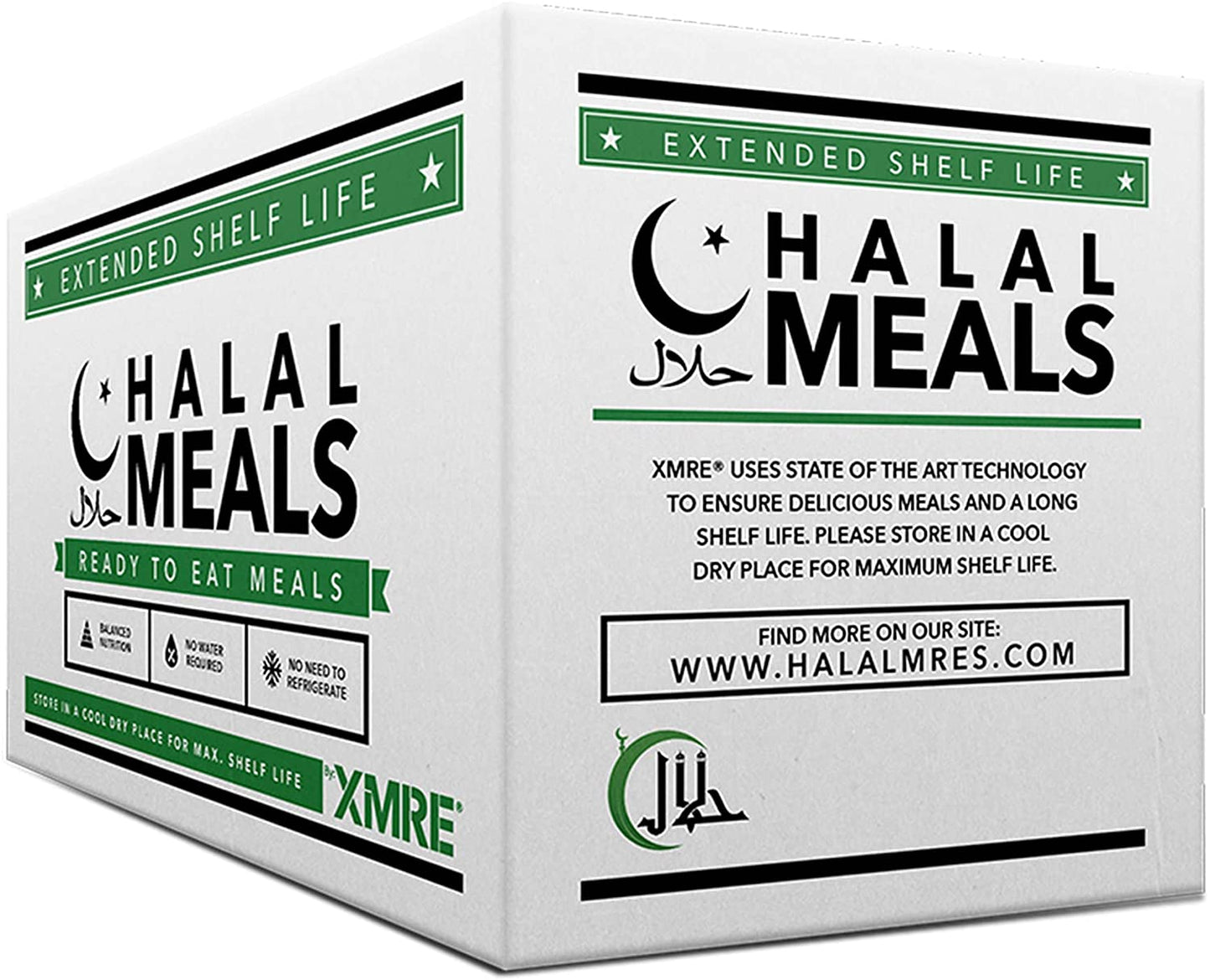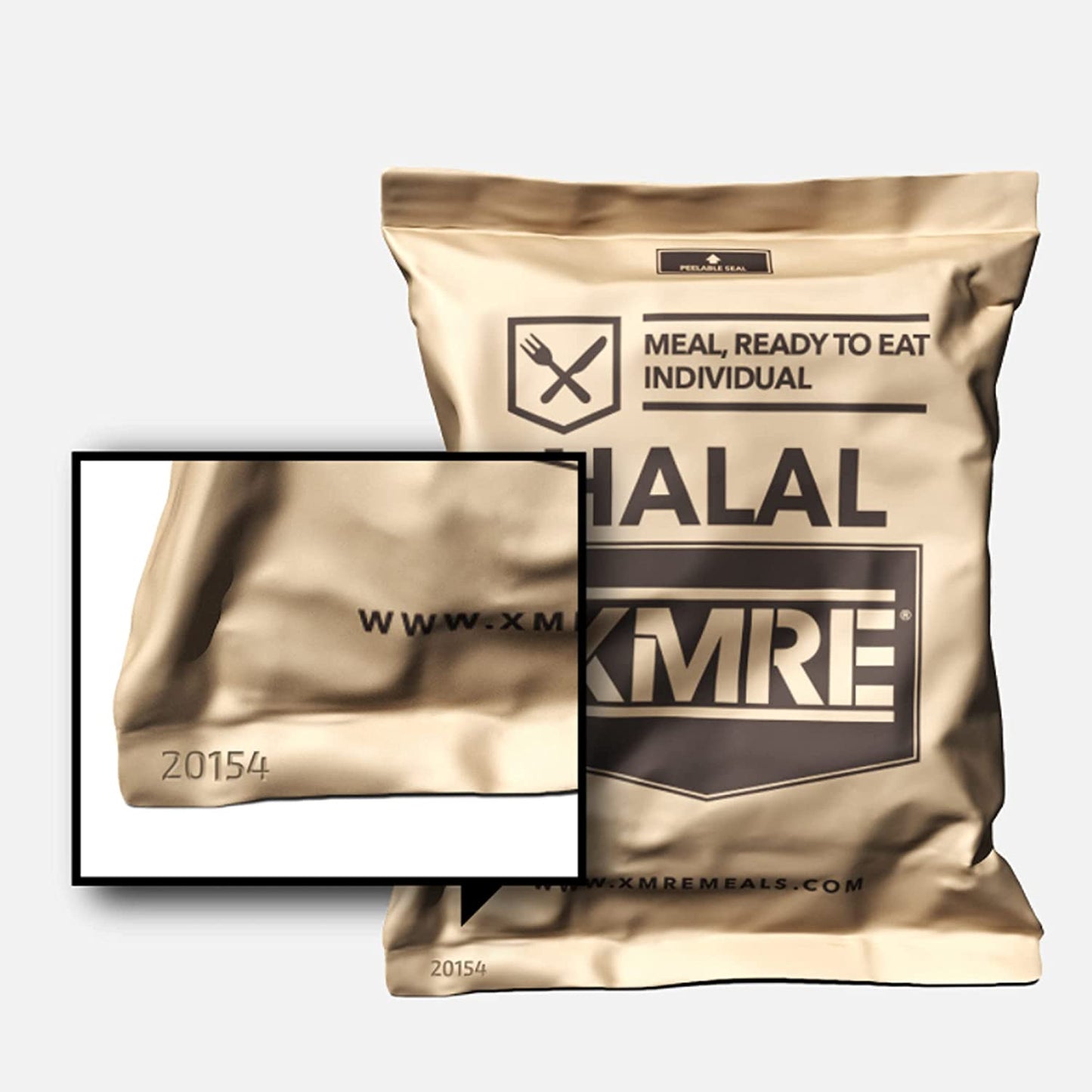 Collapsible content
XMRE Meals

XMRE is an international company that specializes in manufacturing, assembling, and marketing shelf-stable food products, including MREs (meals ready to eat). With decades of experience in the prepared food industry, XMRE has become a leading supplier of MREs to militaries, international organizations, governments, and institutions worldwide. However, in recent years, the company has also been catering to the increasing demand for MREs from the civilian marketplace.

Whether you are an outdoor enthusiast, a prepper, or someone who wants to be prepared for emergencies or disasters, XMRE Meals has a range of solutions that can meet your needs. Their products are perfect for camping, hiking, hunting, and other outdoor activities where you need a reliable source of food. They also offer MREs for fitness enthusiasts who require high-protein meals to fuel their workouts.

One of the unique features of XMRE's products is their long shelf life. Their MREs can last for years without refrigeration or freezing, making them an ideal choice for emergency preparedness. If you're looking to buy MREs, XMRE has a range of options available for sale. Their military-grade MREs are some of the most durable and reliable on the market, and they also offer a variety of other MRE meals to suit your tastes and preferences.

if you're looking for high-quality MREs for sale, XMRE is a company you can trust. With their decades of experience in the industry, their commitment to quality, and their wide range of products, XMRE is a one-stop shop for all your MRE needs. So why wait? Check out their products today and start stocking up on the MREs you need to stay prepared and well-fed in any situation.