Sale price
$69.99 USD
Regular price
$79.00 USD
Unit price
per
Sale
Sold out
$79.00
6 Pouches Per Case | Mfg. Date: 2023 (Best by 2053)

| | |
| --- | --- |
| Package Weight | 1.02 Kilograms |
| Item Dimensions LxWxH | 10 x 9 x 9 inches |
| Item Weight | 3.8 Ounces(108g) |
| Warranty Description | 30-Year Taste Guarantee |
| Number of Items | 6 Pouches |
When it comes to satisfying your hunger during outdoor adventures or everyday needs, Mountain House Chili Mac with Beef is a go-to choice. This hearty meal combines the delightful flavors of chili, macaroni, and beef, offering a round meal packed with protein and carbohydrates. With strong and authentic ingredients, this dish provides a flavorful experience that is sure to please.
The secret to the deliciousness of this round meal macaroni and beef dish lies in the real ingredients used. Mountain House takes pride in using only genuine and wholesome components, ensuring a satisfying and healthy meal. this chilli macaroni dish boasts a rich and flavorful chili sauce that will leave you craving more. The combination of savory beef and perfectly cooked macaroni creates a mouthwatering sensation that is hard to resist.
Ready in 9 Minutes
Preparing chilli mac mre is quick and easy, making it an ideal option for various settings. Whether you're camping, hunting, backpacking, or simply looking for a convenient meal, this dish has got you covered.
Just add water to the pouch, wait 8-10 minutes, and voila! You have a hot and satisfying meal ready to be enjoyed. The straightforward preparation process allows you to indulge in the flavors of chili macaroni without any hassle or extensive cleanup.
Mountain House Freeze Dried Food
One of the notable advantages of Mountain House meals is their freeze-dried nature, which preserves both nutrients and flavor while keeping the weight of the pouches lightweight and easily portable. This means you can take them with you wherever you go, ensuring a hearty and delicious meal is always within reach. Whether you're embarking on an outdoor adventure, preparing for survival situations, or simply enjoying a weekend getaway, Mountain House Chili Mac with Beef - Pouch is a reliable companion.

To further enrich your culinary options, Mountain House offers a variety of other gourmet meals, including Classic Spaghetti with Meat Sauce, Hearty Beef Stew, and Creamy Macaroni and Cheese. These options allow you to enjoy a diverse range of flavors and satisfy your cravings while on the go. you can indulge in delicious meals without compromising on taste or convenience.

| | |
| --- | --- |
| Calories/Per Pouch | 460 |
| Total Fat | 12g / 15% |
| Saturated Fat | 4g / 20% |
| Trans Fat | 0g / 0% |
| Cholesterol | 45mg / 15% |
| Sodium | 1520mg / 66% |
| Carbohydrate | 65g / 24% |
| Dietary Fiber | 8g / 29% |
| Total Sugars | 7g |
| Incl. Added Sugars | 1g / 2% |
| Protein | 24g / 20% |
| INGREDIENTS | |
| Enriched Macaroni | (durum semolina flour, niacin [B3], ferrous sulfate [Iron], thiamine mononitrate [B1], riboflavin [B2], folic acid [B9]) |
| Beef | (beef, rosemary extract, salt) |
| Seasoning | (chili pepper, onion, sea salt, cumin seed, yeast extract, paprika, cane sugar, garlic, salt, malt extract) |
| Kidney Beans | (kidney beans, salt) |
| Corn Starch | |
| Tomato Paste | |
| CONTAINS | Wheat |

Enjoy the convenience, healthiness, and delectable flavors of chilli mac mre wherever you go, without the hassle of cooking or extensive cleanup.
Share
View full details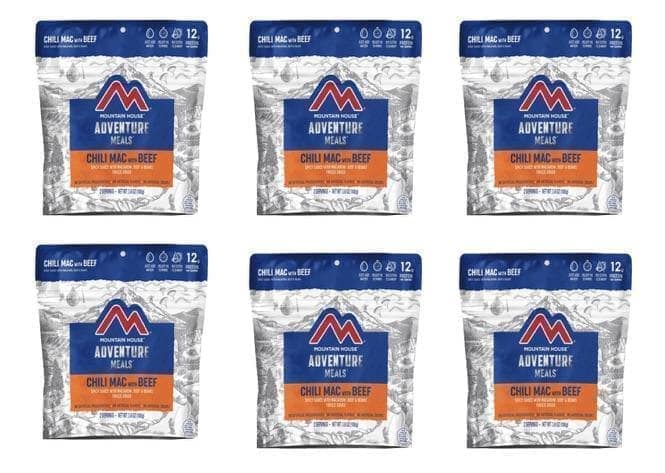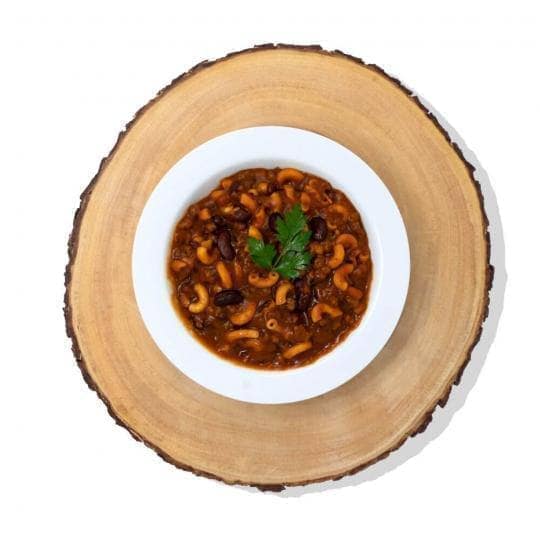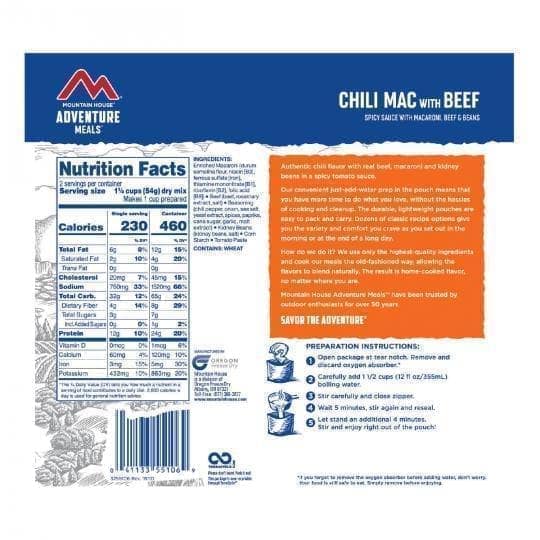 Collapsible content
Mountain House Freeze Dried Food

Ongoing Offers:-


Buy 3 Mountain House Buckets and Get $50 Off.

Buy 5 or more Mountain House cans and get $100 Off.

Spend 3500 and Get a 5% Discount
Mountain House Meals

 Mountain House Freeze Dried Food is a great option for those who need good to go meals or short-term emergency food storage.

The food is easy to prepare, requiring just boiling water and 10 minutes of waiting time - no additional cooking required!

It is lightweight and can easily be stored in a backpack, making it an ideal choice for camping trips or long hikes.

With its superior taste and quality, Mountain House Freeze Dried Meal provides nourishment without sacrificing flavour or texture.

All meals are high in calories and protein, making them an excellent source of energy while travelling or during times when fresh food is not available.

All products are packaged with oxygen absorbers to help maintain quality and longevity - up to 30 years!
What is the shelf life?

Mountain House claims that their freeze-dried food has a shelf life of 30 years when stored properly. However, this shelf life can be affected by various factors such as temperature, moisture, and exposure to air. In general, the cooler and drier the storage conditions, the longer the food will last.
Storage Instructions

Store in a cool, dry place,Keep away from direct sunlight , Keep away from moisture, Keep the packaging intact,Store in airtight containers. The ideal storage temperature for Mountain House food is below 75°F (24°C), so choose a location that is cool and dry, such as a pantry, basement, or closet.