Regular price
$219.99 USD
Sale price
$219.99 USD
Regular price
$229.99 USD
Unit price
per
Sale
Sold out
$229.99
A versatile bag packed with essential emergency items. This tactical backpack is filled with 20 servings of emergency food along with a first aid kit, multipurpose flashlight, water filtration bottle, cooking essentials, and much more (134 total pieces).

What's Included?
Food & Drink
20 Total Servings
Appalachian Apple Cinnamon Cereal
Daybreak Coconut Blueberry Multi-Grain
Golden Fields Mac & Cheese (2 Pouches)
Backcountry Wild Rice Risotto
Summit Sweet Potato Curry
Open Range Cheesy Potato Soup
Basecamp Four Bean & Vegetable Soup
Aqua Literz Water
First Aid & Hygiene
112-Piece First Aid Kit

Sanitizing Wipes (50 Pack)
Other Emergency Supplies
4-In-1 Flashlight: Hand Crank Flashlight, AM/FM Radio, Panic Alarm, & Mobile Phone Charger
Mylar Emergency Blanket
Paracord Bundle (100 Feet)
5-In-1 Survival Whistle
Seychelle Water Filtration Bottle
Wise Fire Starter
Additional Details
134 Total Pieces
Includes Tactical Backpack
Eat-In Pouches
Each Pouch Contains 2.5 Servings
Share
View full details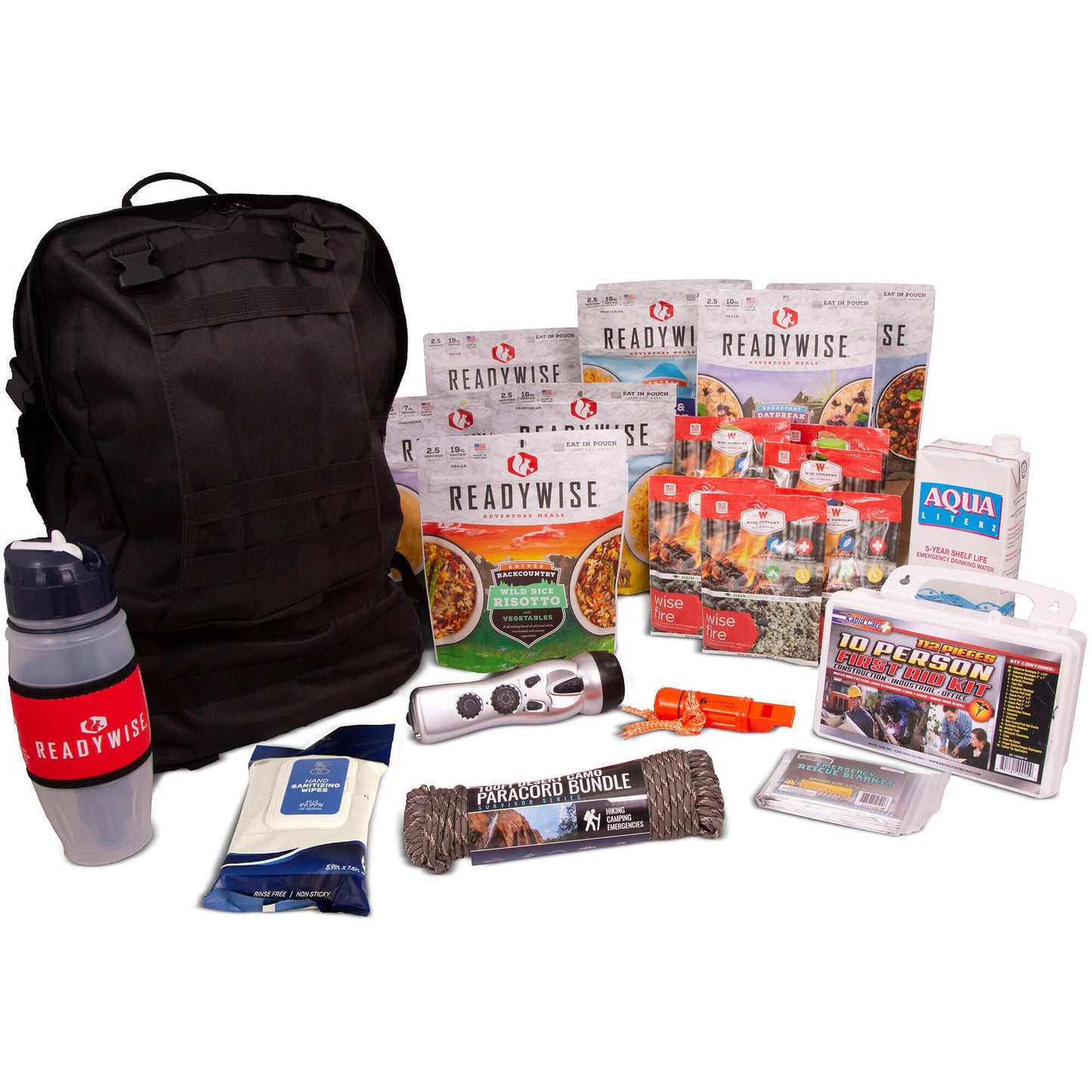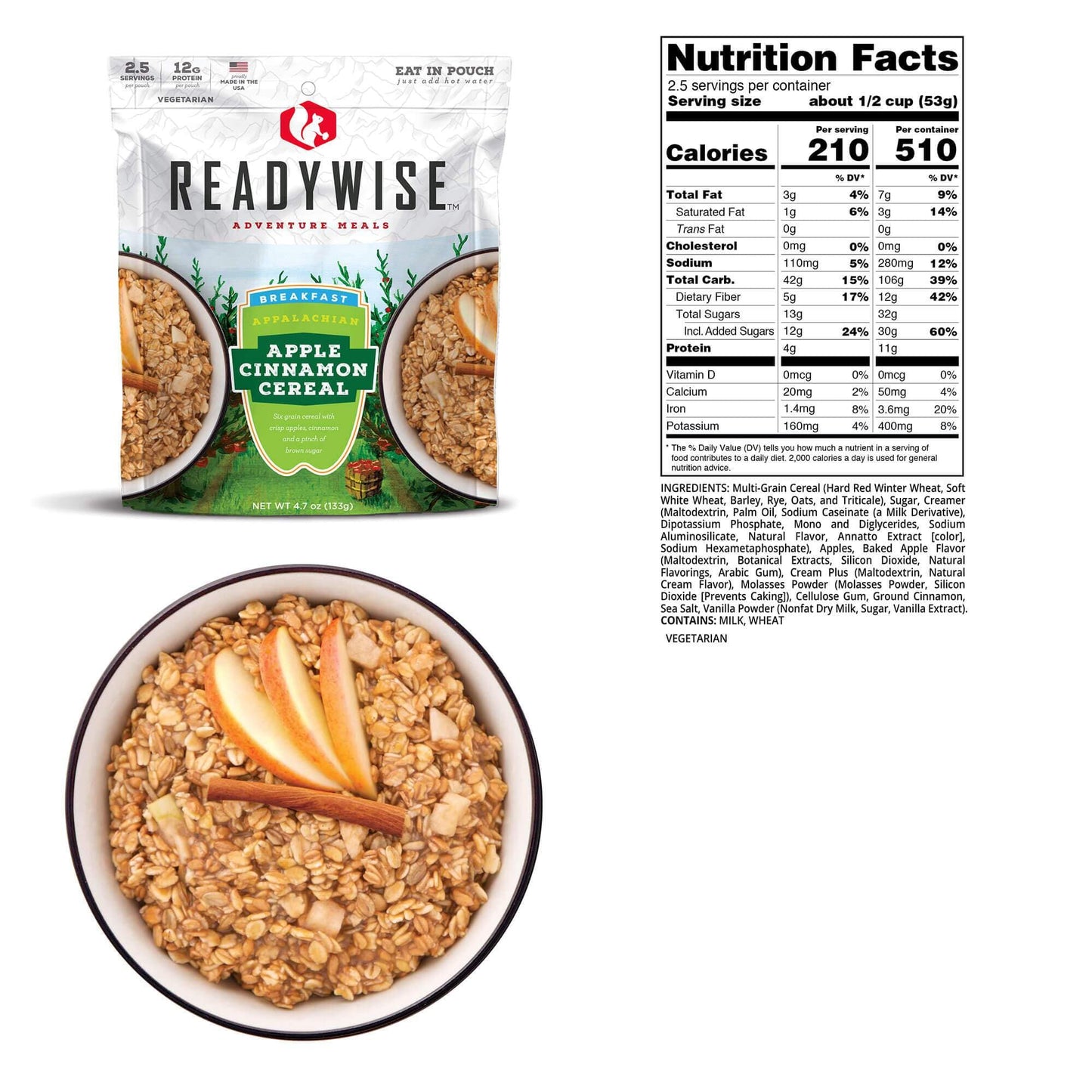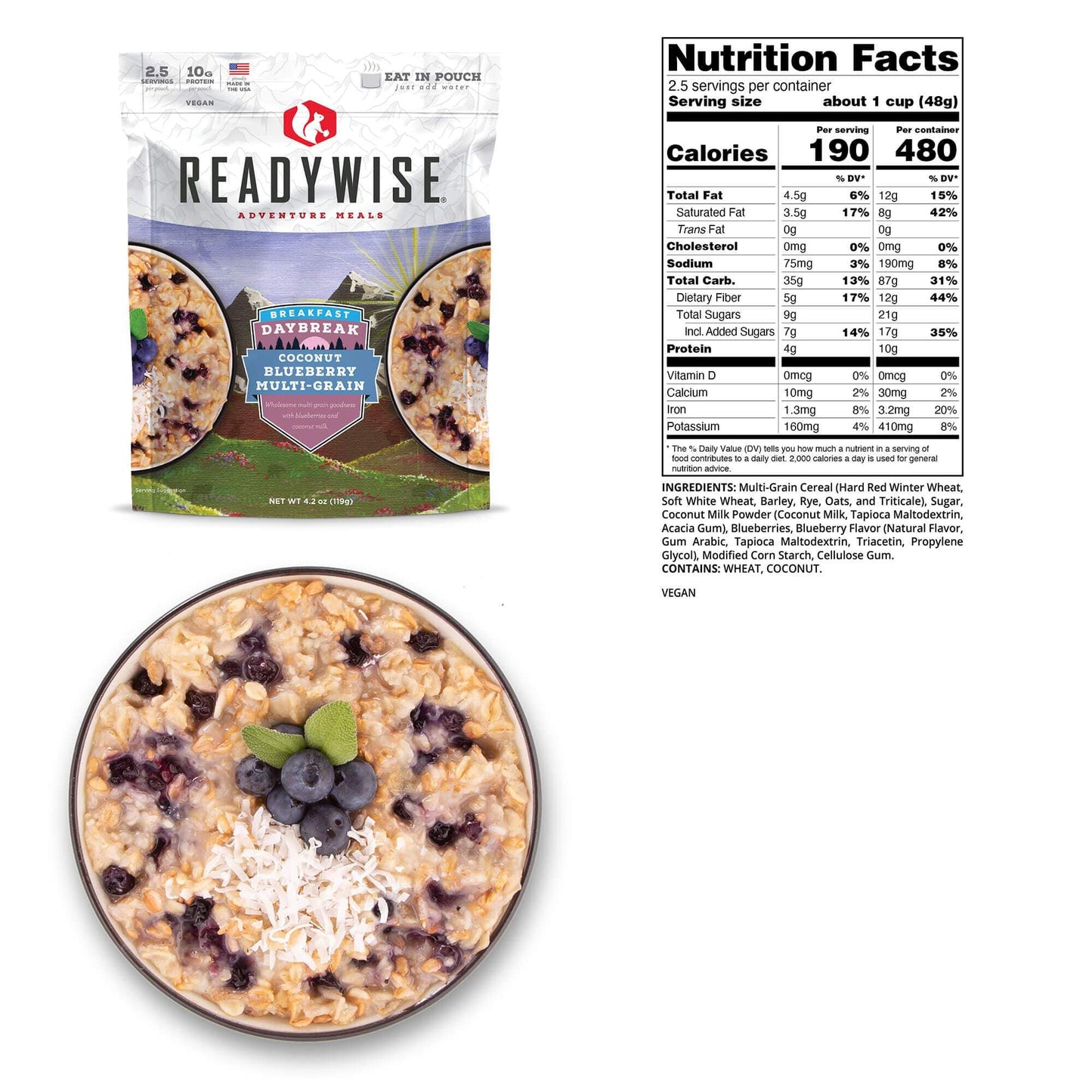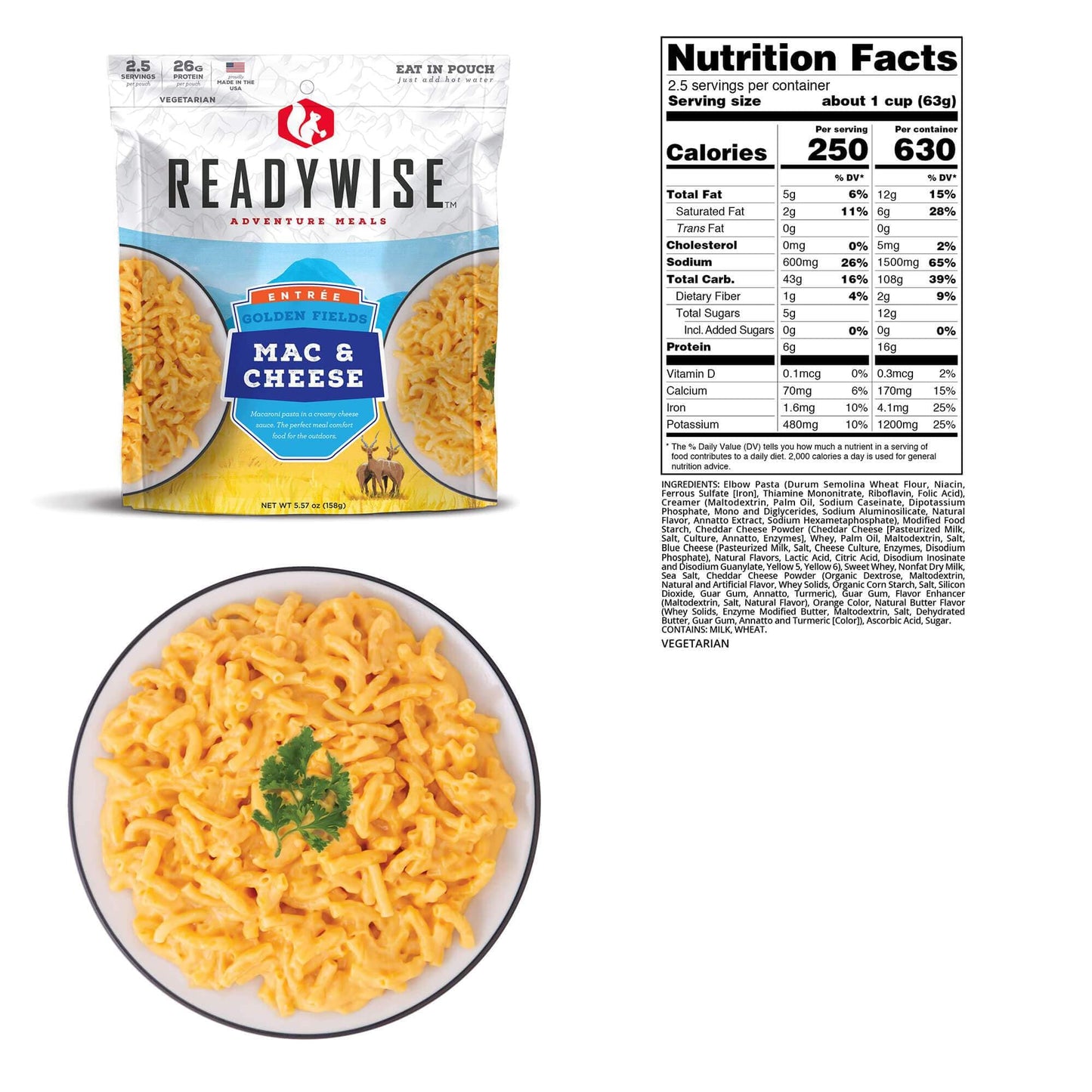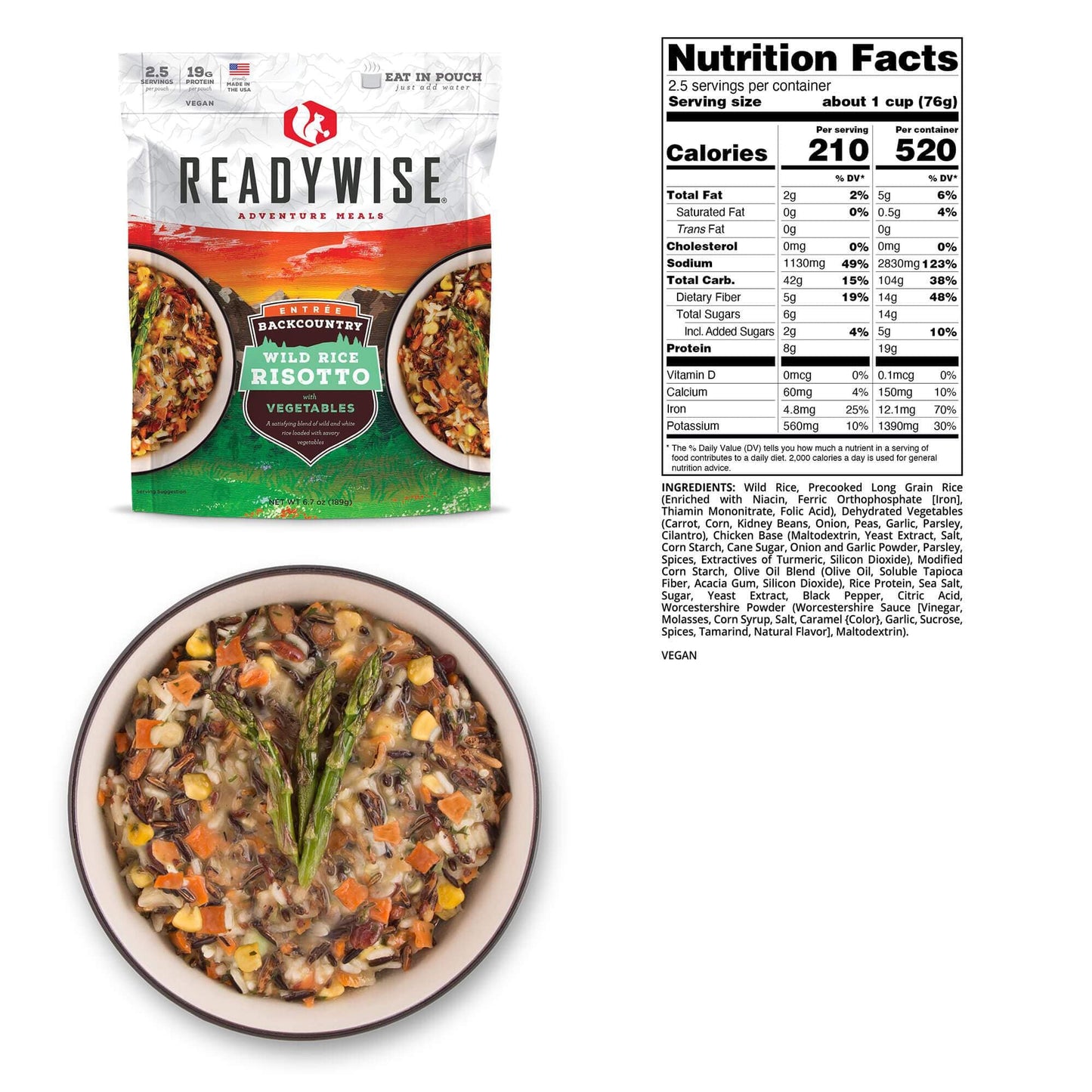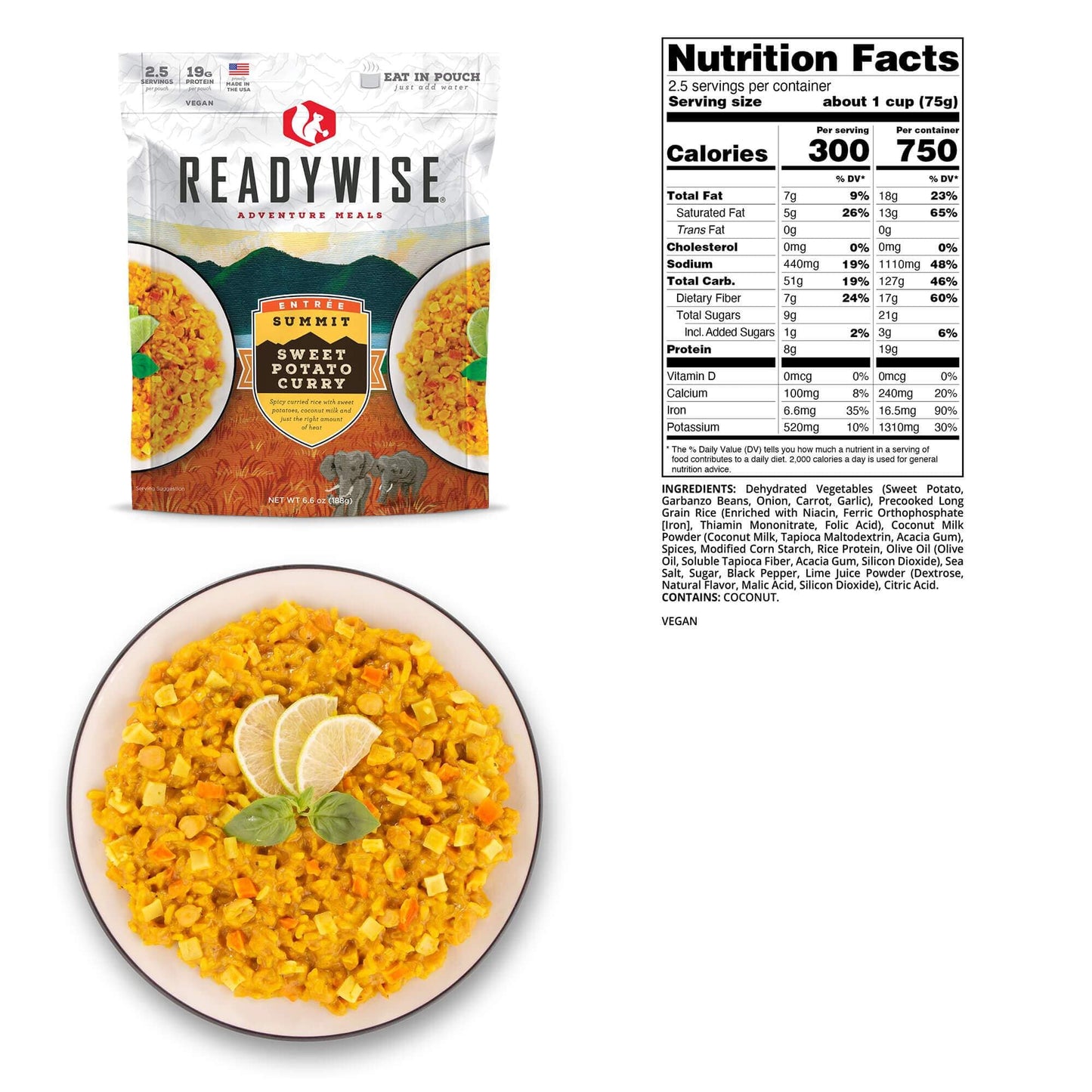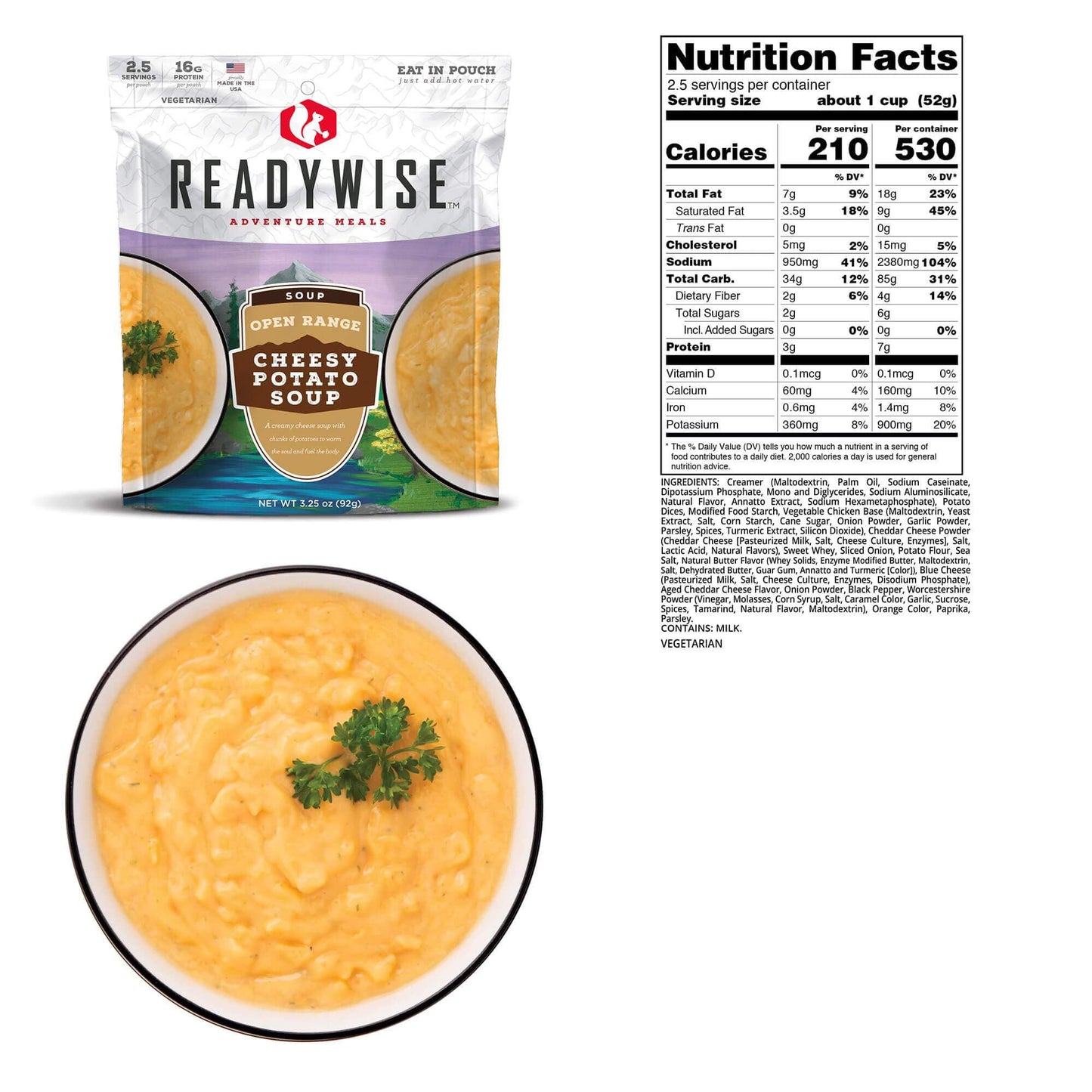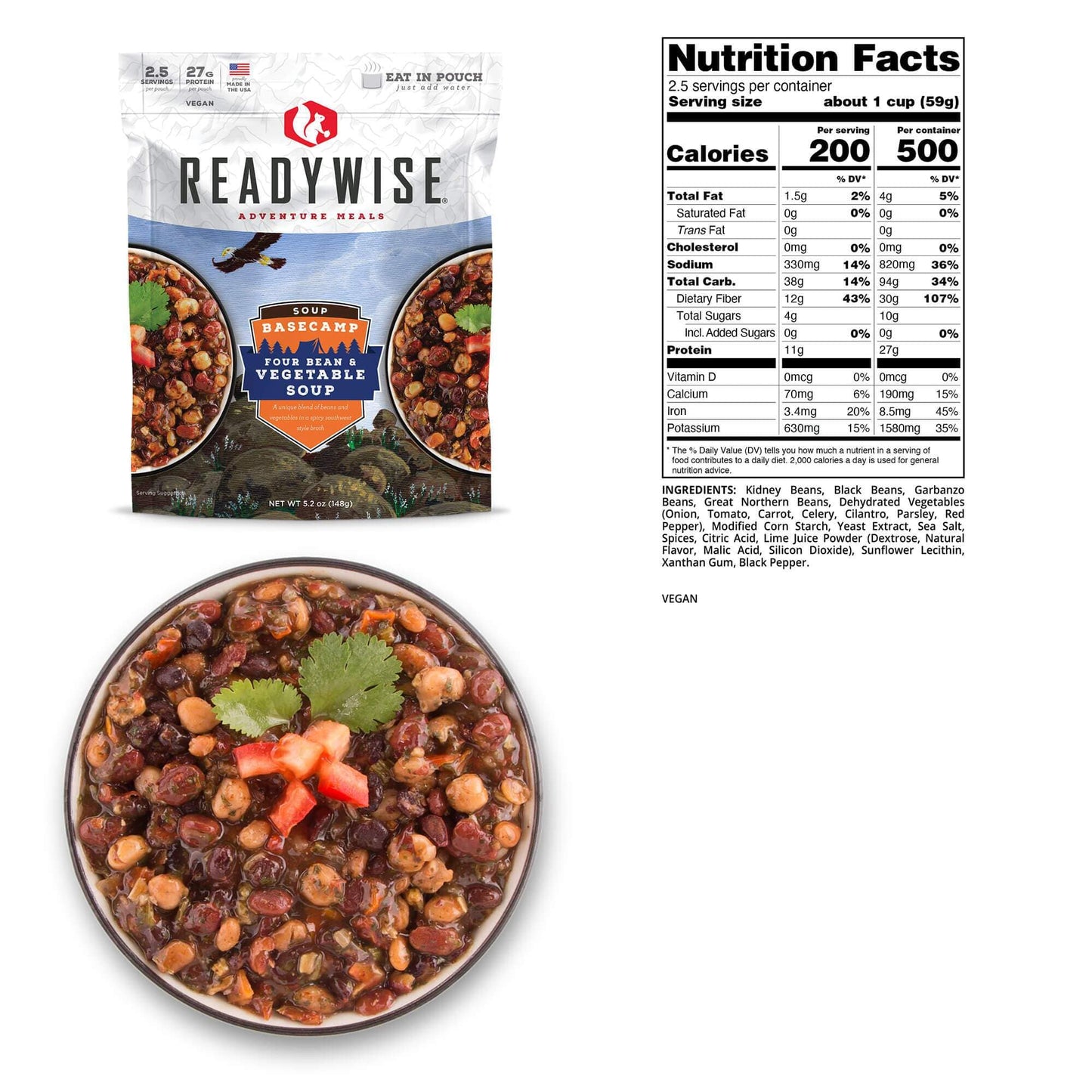 Collapsible content
Readywise

Where should I store my ReadyWise Food?

ReadyWise Food should be stored in a cool, dry place that is away from direct sunlight and sources of heat. It's important to keep the food in its original packaging, as the packaging is designed to protect the food from moisture, oxygen, and other elements that can cause it to spoil or degrade.

How are ReadyWise foods packaged?

The most common packaging types used by ReadyWise include:

Pouches: ReadyWise foods are often packaged in individual, lightweight pouches. These pouches are made of a durable, multi-layer material that protects the food from moisture, oxygen, and other elements that can cause it to spoil or degrade. The pouches are typically easy to open and reseal, making them ideal for single servings or small portions.
Cans: Some ReadyWise foods are packaged in metal cans. These cans are designed to be airtight, which helps to protect the food from moisture and oxygen. Canned foods also have a long shelf life and can be stacked or stored easily. However, they are less convenient for single servings or small portions.
Buckets: ReadyWise also offers food storage buckets, which are designed to hold multiple pouches or cans of food. These buckets are made of a durable plastic and typically come with a lid that seals tightly to keep out moisture and pests. Food storage buckets are ideal for long-term storage or emergency preparedness.

What allergens are contained in ReadyWise products?

Milk, soy, and wheat (gluten) are the common allergens found in ReadyWise products. For specific ingredients by product type please consult the nutritional labels.

How long do the meals last in storage?

25 years is the shelf life of all the Readywise Freeze dried foods.