Regular price
$417.00 AUD
Sale price
$417.00 AUD
Regular price
$618.00 AUD
Unit price
per
Sale
Sold out
$618.00
Share
View full details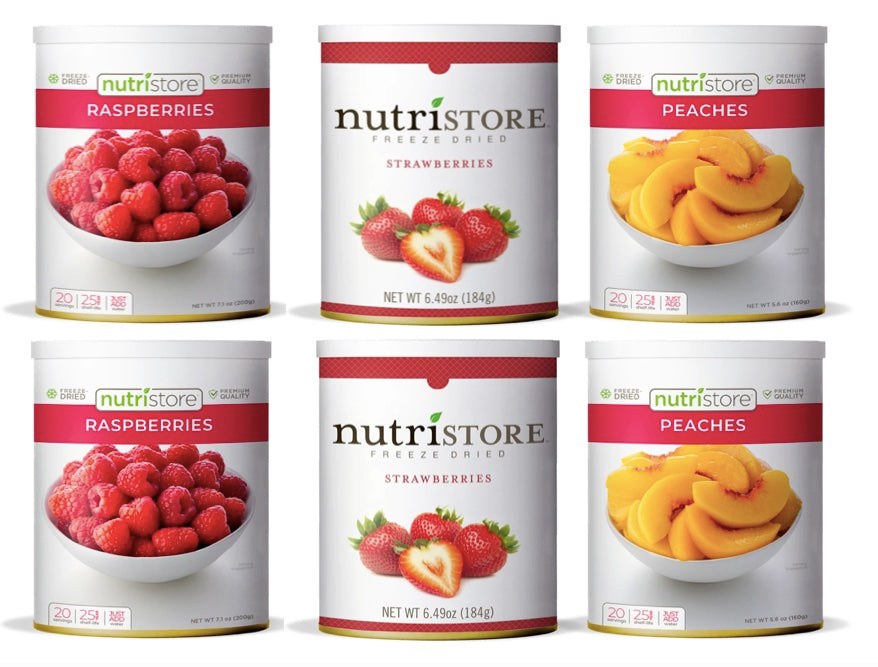 Collapsible content
Nutristore FAQ's

How long do unopened freeze-dried foods last?

By storing in optimum conditions, freeze-dried foods will last up to 25 years. These conditions are a cool, dry place between 55°-75°. Most importantly, freeze-dried foods need to be protected from moisture, oxygen, and sunlight.
Once opened, how does shelf-life change?

Once your Nutristore can is open, freeze-dried food can last up to 6-12 months depending on storage conditions. The biggest hindrance to open can shelf life is exposure to air, light and moisture. In order to extend your open can shelf life,it is highly recommended to limit the amount of time your product is exposed to air, light and moisture. Use the resealable lid and ensure the product is covered immediately after opening. We recommend storingthe productin a cool, dark and dry location with temperatures between 55 - 75 degrees. Ideal locations are in a cupboard, pantry or closet. Following these guidelines will help ensure you receive the maximum open can shelf! Read our recent blog for more details!
What are the countries of origin that you source Nutristore foods?

We have fantastic and trusted food suppliers all over the world! Depending on the time of year or season, we source our Nutristore foods from some of the following countries: USA, Canada, Ecuador, Greece, Costa Rica, Uruguay, Argentina, Serbia, New Zealand, India, Poland, Mexico & Chile.
Are your #10 cans BPA free?

Yes, all our cans are BPA free! It may help to know that our cans are coated with a food-grade enamel. This lining does not contain BPA. This coating is used to further prevent oxygen, moisture, rust and light from coming in contact with the food. This extra effort helps to ensure the best possible shelf life for our products.
Are your products non-GMO?

Many of our fruits and vegetables are sourced non-GMO.
What does the date mean on the bottom of each can?

This date is the manufacture date. This is the date that all shelf life is based on.
What is the method for shipping?

We ship using UPS ground through out the lower 48 states. please email us customerservice@safecastle.com
What do I do if I have damaged or dented product?

Email us at customerservice@safecastle.com ! We are always happy to take care of our customers.