Regular price
$149.00 USD
Sale price
$149.00 USD
Regular price
$199.00 USD
Unit price
per
Sale
Sold out
$199.00
The Ultimate Kayak Wind Sail for Enhanced Adventure
Experience the thrill of harnessing the power of the wind with the Sea Eagle QuikSail. Our innovative kayak wind sail is designed to provide you with an exhilarating sailing experience on the water. 
Discover the freedom and excitement of sailing with ease, and explore new horizons on your kayak adventure.

QuikSail- Universal Kayak Sail:
14 Sq ft Neil Pryde Sail

Strong aluminum frame

Nylon carry bag

Hands-Free

Self-Standing

Sail canvas measures 68" x 59"

QuikSail with frame measures 43"x3" folded

Extends to 81"

Weighs 2 lbs.

Sails up to 7 knots
 Unleash the Power of the Wind with the Sea Eagle QuikSail
Set sail on your kayak and enjoy the sensation of gliding effortlessly through the water with the Sea Eagle QuikSail.

Maximize your kayaking experience with this cutting-edge wind sail designed to capture and utilize the power of the wind.

Take your kayaking adventures to new heights by adding the Sea Eagle QuikSail to your gear collection.
Quick Setup and Removal for Instant Sailing
The Sea Eagle QuikSail is designed with convenience in mind, allowing for a swift and hassle-free setup.

Its lightweight construction and user-friendly design make it easy to attach and remove from your kayak.

Spend less time preparing and more time enjoying the open waters with the Sea Eagle QuikSail.
Generous Sail Area for Optimal Performance
The QuikSail features a triangular sail with a large amount of sail area, ensuring enhanced performance even in varying wind conditions.

The aluminum poles along the edges of the sail provide stability and durability, allowing for efficient navigation on the water.

Sail with confidence and achieve remarkable speeds as the wind propels you forward with the Sea Eagle QuikSail.
Secure and Reliable Attachment System
The QuikSail's attachment system is designed for versatility, allowing you to tie off the sail to any D-ring or strap-eye aft of the sail on your kayak.

The secure attachment ensures that the sail remains in place, even during windy conditions or sudden shifts in wind direction.


Order your Sea Eagle QuikSail today and discover the excitement of sailing on your kayak like never before!

Share
View full details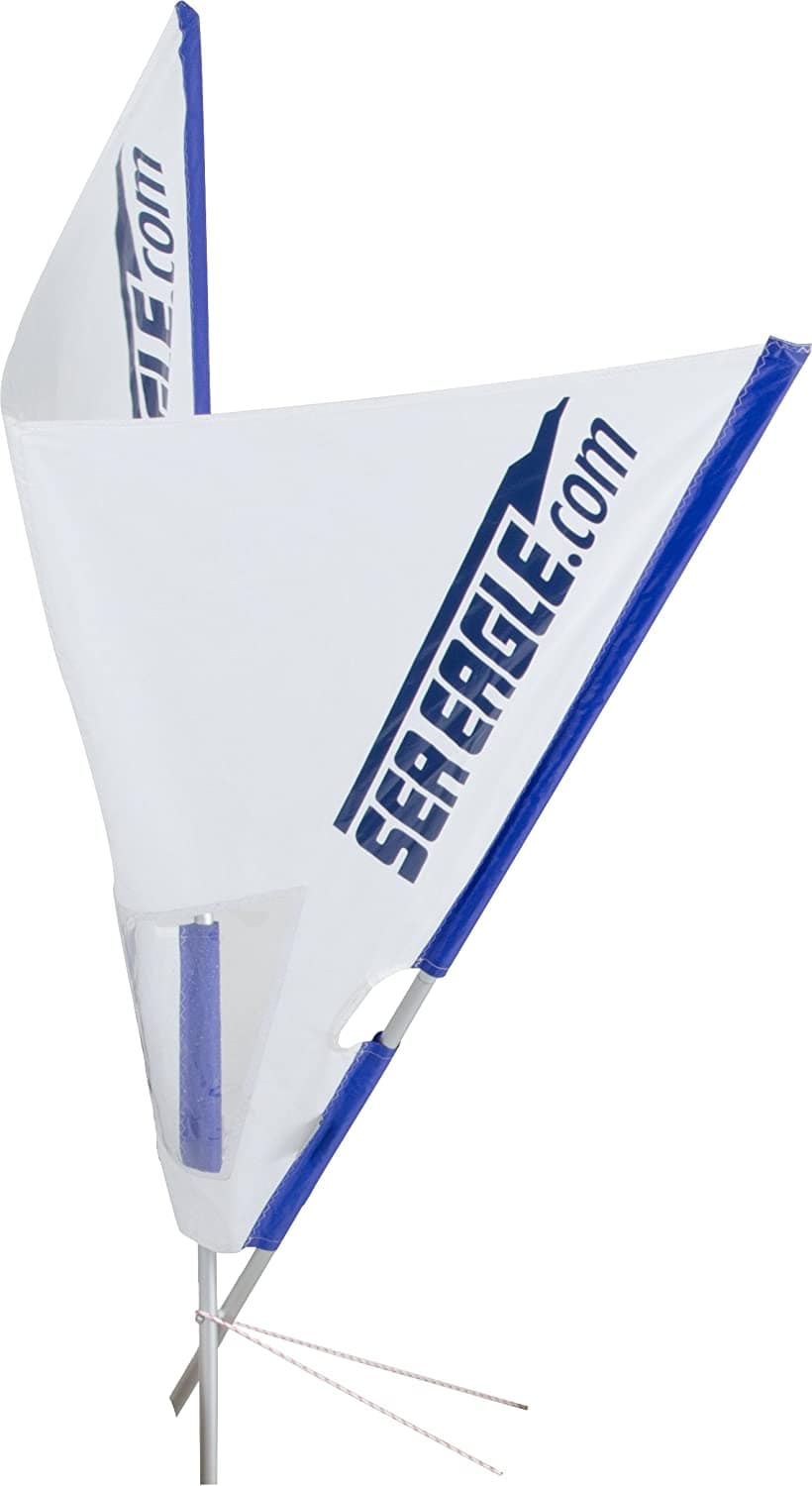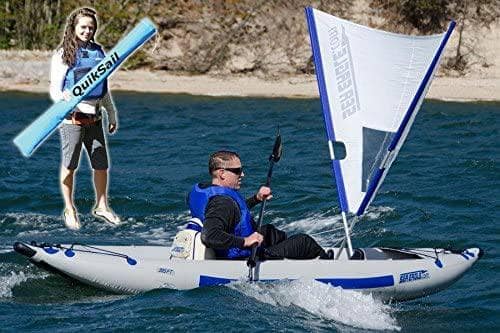 Collapsible content
SEA EAGLE FAQ

Can I put a dog in a Sea Eagle?

Yes, as long as your dog's nails are not sharp, bringing your dog with you in any of our inflatables is perfectly fine.

What kind of battery do I need for my electric motor?

Most traditional electric motors require a 12 volt, deep cycle marine battery. Sea Eagle does not carry or sell these batteries, however you can find them easily in most local marine or sporting good stores. Torqeedo electric motors require a Lithium-ion Manganese battery which is included with the motor.

Are the boats Coast Guard approved?

Although Sea Eagle Boats are durable enough to use for rescue applications, they are designed with leisure in mind. The United States Coast Guard only rates and approves inflatable boats designed specifically for life-saving applications. Our Sea Eagle models are NMMA and CE Certified.

Do I have to register my boat?

Although Sea Eagle Boats are durable enough to use for rescue applications, they are designed with leisure in mind. The United States Coast Guard only rates and approves inflatable boats designed specifically for life-saving applications. Our Sea Eagle models are NMMA and CE Certified.

Can I inflate my boat with an air compressor at the gas station or any type of air compressor?

NO. Air compressors deliver more pressure than necessary and can overinflate or permanently damage your Sea Eagle. We recommend using only pumps approved and offered by Sea Eagle.

Can I mail in a check or money order?

Yes. You can mail a check or money order payable to Sea Eagle 19 North Columbia St, Suite 1 Port Jefferson NY 11777 Checks and Money Orders must be in US dollars payable to Sea Eagle, drawn at a US bank and payable in US. Personal Checks and Money Orders will take 10 business days to clear once received and orders will not be shipped out until the check has cleared.

How can I tell if my boat is fully inflated?

Each Sea Eagle model has its own recommended pressure for full inflation. You should always refer to your instruction manual for the designated pressure. Sea Eagle models SE-8, SE-9, 124SMB and Sport Kayak SE-330 & SE-370 feature an inflation gauge to ensure proper inflation. We also offer two different types of electric pumps (for different types of Sea Eagles) which can be set to the recommended pressures and will shut off automatically once your Sea Eagle is fully inflated.

Are inflatable boats serious craft or are they just for hobbyists?

Inflatables have been in common use by the US Navy, Coast Guard, and serious boaters for decades. Sea Eagle's inflatable Sport Runabouts are the water-going equivalent of a sports car – a serious performance craft. Inflatables' special advantage is portability - they deflate quickly and fit in your car trunk. Further, inflatables cost less and are easier to maintain than any same-sized hardhulled craft. And since you don't need a boat trailer, you'll never wait in line to launch your Sea Eagle inflatable.

What kind of maintenance do Sea Eagles require?

There's virtually no maintenance. Just hose it down at season's end, dry it in the sun, and pack it away. If you live in the sunbelt, you may want to apply UV protection above what's already built into your Sea Eagle inflatable.

How about warranty protection?

"Sea Eagle inflatables are NMMA-certified and automatically warrantied for 3 full years against manufacturing defects. You may also extend the coverage to 6 full years for a nominal fee. Read the full warranty policy by following this link,

www.SeaEagle.com/Warranty"

Do international orders and orders from Canada, Alaska, Hawaii, Puerto Rico & Guam get FREE SHIPPING?

The FREE SHIPPING offer is valid only for GROUND SHIPMENTS to the 48 contiguous United States and only applies to orders for BOAT PACKAGES

Are inflatables permitted in my area?

Rules and regulations vary from state to state and from place to place so it is suggested that you contact your local DMV or water authorities on the subject.

Can I use my Sea Eagle in salt water?

Yes. All our boats have salt water resistant hulls.

How do I clean my Sea Eagle?

It is important to always keep your Sea Eagle clean, especially if you go into different water ways. Rinsing your boat, board or kayak will help keep organisms from one body of water enterting another. Invasive species can cause damage and ruin your favorite lake, pond, river, etc. ALWAYS make sure your Sea Eagle is clean and completely dry to prevent mold from growing.