Sale price
$71.99 USD
Regular price
$89.99 USD
Unit price
per
Sale
Sold out
$89.99
PERFECT FOR CAMPING & BACKPACKING
Mountain House Meals, Mountain House Freeze Dried Food

This kit contains breakfast, lunch, and dinner for one person for two days. Contains 6 total pouches (12 total servings) and makes planning for your next camping or backpacking trip simple. 
Meal Kit for Camping & Backpacking Trips
Adventure Weekender Kit Contains:
With six total pouches of delicious just-add-water breakfast, lunch and dinner entrees, you're all set for this weekend's camping trip:
Granola with Milk & Blueberries (1 pouch) - Crunchy granola, milk and real blueberries. Each pouch yields two 1/2-cup servings.
Breakfast Skillet* (1 pouch) - Hash browns, scrambled eggs, crumbled pork patty, peppers and onions. Each pouch yields two 1-cup servings.
Rice & Chicken* (2 pouches) - Rice and chicken in a savory sauce accented with peppers, carrots, and celery. Each pouch serves up two 1-cup servings.
Beef Stroganoff with Noodles (2 pouches) - Tender beef, noodles, and mushrooms smothered in a rich sour cream sauce. Each pouch yields two 1-cup servings.
*certified gluten-free by GFCO.
more about adventure weekender kit
Ready in 9 Minutes
Kit measurements: 9.875"(L) x 8.875"(W) x 8.875"(H); Requires 8 total cups of water to rehydrate and weighs 2.75 lbs.
Mountain House Adventure Weekender Kit takes the guesswork out of meal planning. This kit contains breakfast, lunch, and dinner for one person for two days. With 6 total pouches (12 total servings), just add water and eat in less than 10 minutes with no extra cleanup! Perfect for camping, hunting, and weekend backpacking trips. Plus, backed by a 30-Year Taste Guarantee, if a curveball gets thrown your way and your trip cancelled, have peace of mind knowing Mountain House has you covered for decades.
Share
View full details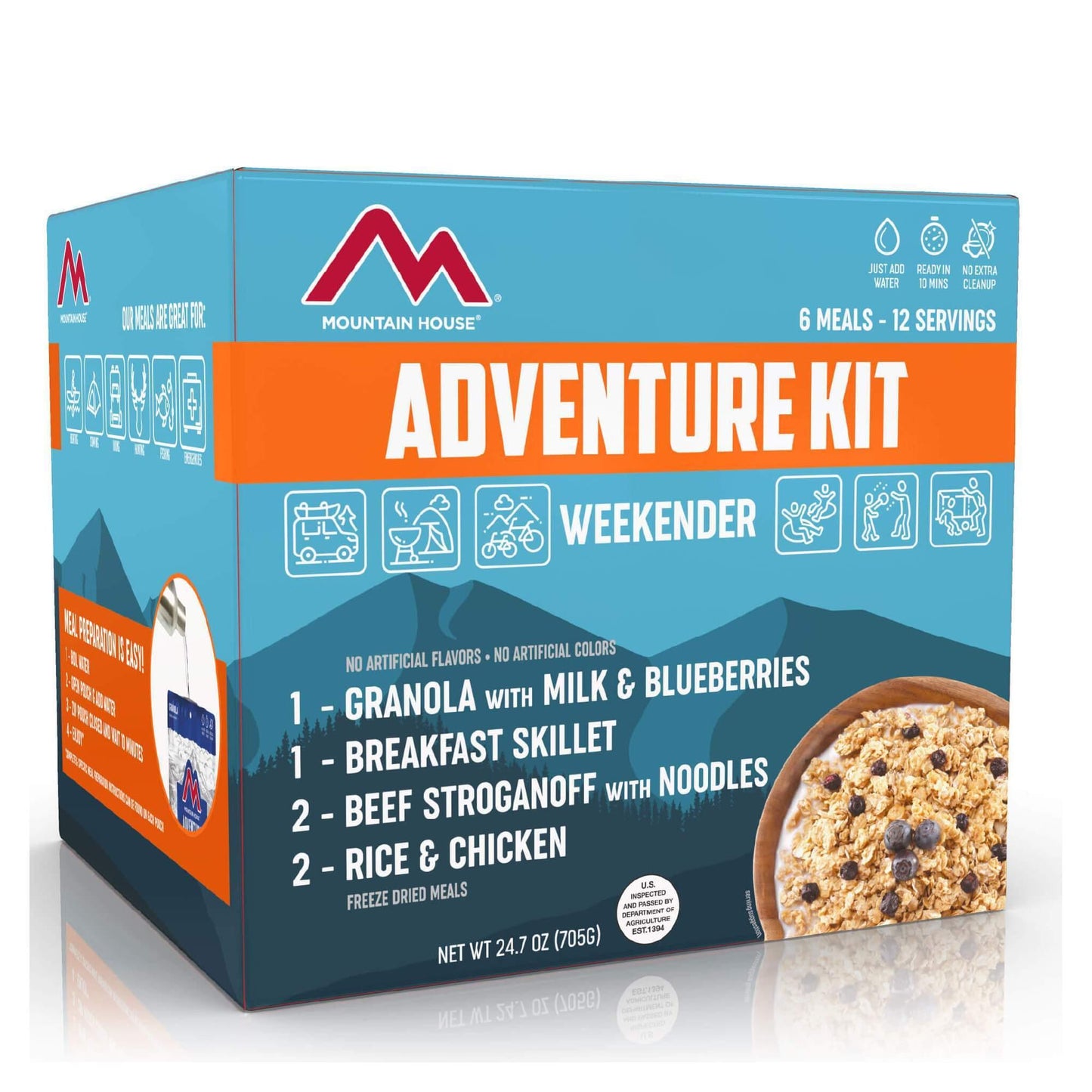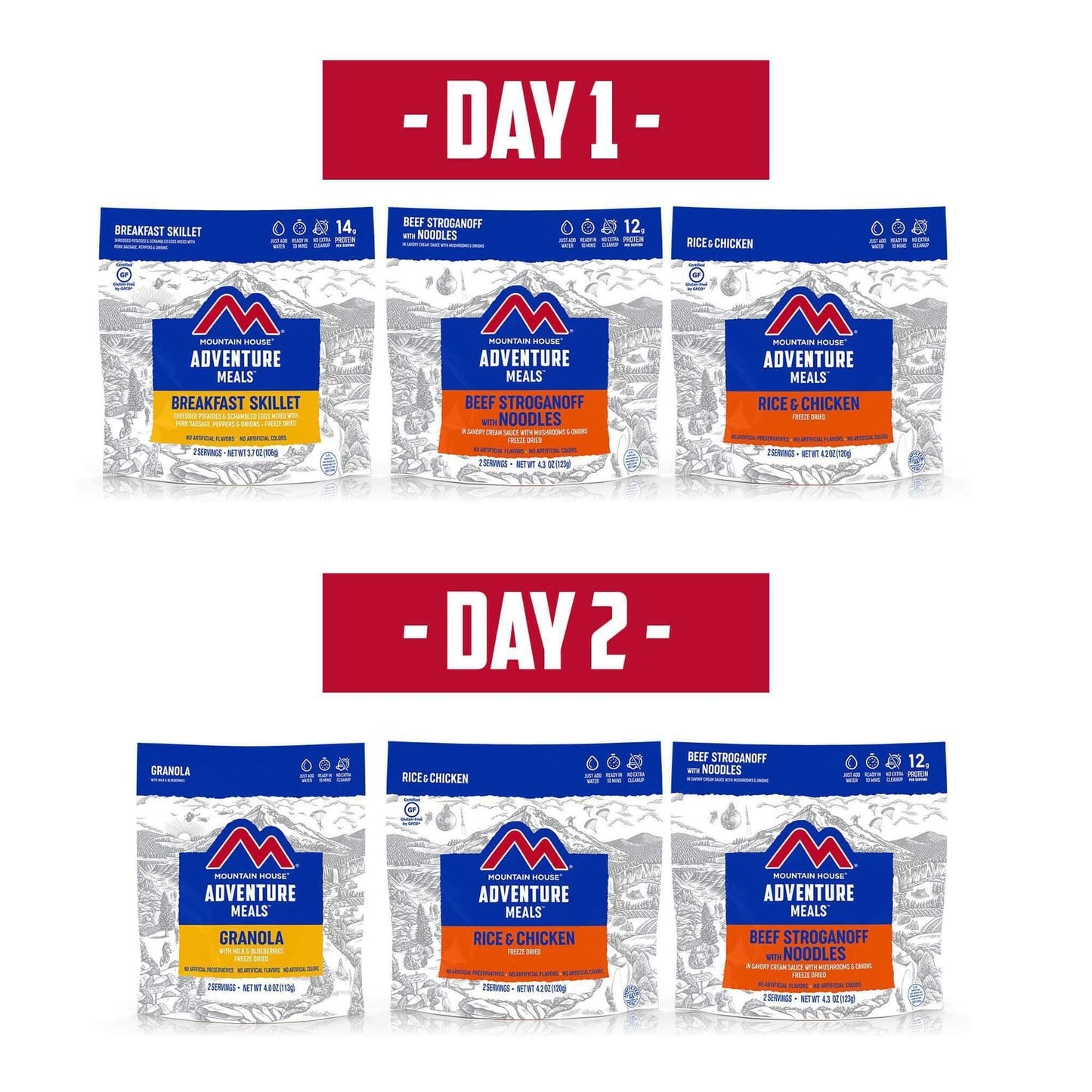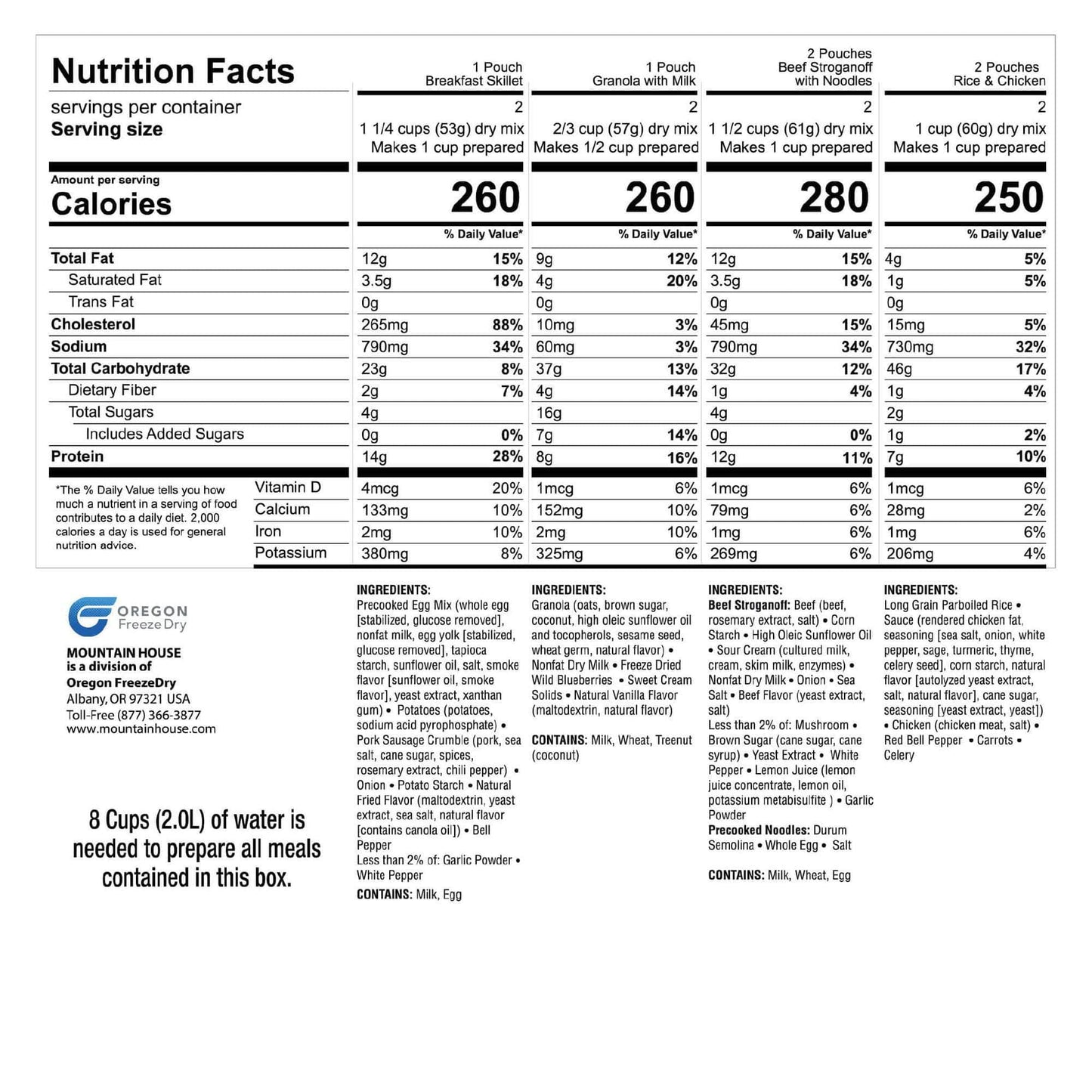 Collapsible content
Mountain House Freeze Dried Food

Ongoing Offers:-


Buy 3 Mountain House Buckets and Get $50 Off.

Buy 5 or more Mountain House cans and get $100 Off.

Spend 3500 and Get a 5% Discount
Mountain House Meals

 Mountain House Freeze Dried Food is a great option for those who need good to go meals or short-term emergency food storage.

The food is easy to prepare, requiring just boiling water and 10 minutes of waiting time - no additional cooking required!

It is lightweight and can easily be stored in a backpack, making it an ideal choice for camping trips or long hikes.

With its superior taste and quality, Mountain House Freeze Dried Meal provides nourishment without sacrificing flavour or texture.

All meals are high in calories and protein, making them an excellent source of energy while travelling or during times when fresh food is not available.

All products are packaged with oxygen absorbers to help maintain quality and longevity - up to 30 years!
What is the shelf life?

Mountain House claims that their freeze-dried food has a shelf life of 30 years when stored properly. However, this shelf life can be affected by various factors such as temperature, moisture, and exposure to air. In general, the cooler and drier the storage conditions, the longer the food will last.
Storage Instructions

Store in a cool, dry place,Keep away from direct sunlight , Keep away from moisture, Keep the packaging intact,Store in airtight containers. The ideal storage temperature for Mountain House food is below 75°F (24°C), so choose a location that is cool and dry, such as a pantry, basement, or closet.