Regular price
$381.00 AUD
Sale price
$381.00 AUD
Regular price
$396.00 AUD
Unit price
per
Sale
Sold out
$396.00
During a long-term emergency, you're going to be burning plenty of calories during the day as you keep yourself, your family, and your property safe. Get a jump-start on the day with our 120 serving breakfast bucket. Each bucket contains a selection of tasty, nutritious cereals and granola to fire up your metabolism and get you moving. Mom always said breakfast was the most important meal of the day, and that holds true even when you're dealing with the uncertainty of an emergency situation. 

What's included in this kit?
5 pouches of Strawberry Granola Crunch (20 Servings)
10 pouches of Brown Sugar and Maple Multi-Grain Cereal (40 Servings)
5 pouches of Crunchy Granola (20 Servings)
10 pouches of Apple Cinnamon Cereal (40 Servings) 
* In order to get this item to you as fast as possible, we may swap out an entree or breakfast with another entree or breakfast in this bucket. This means that the pouches of a particular entree or breakfast you receive in the bucket we send you may not match exactly with the configuration shown here. The number of servings will not change. The number of pouches you receive will not change.
Additional Product Details:
Includes 1 total bucket
Total calories: 27,400
Average calories per serving: 278
Food is safely sealed in Metallyte™ pouches
To avoid waste, each pouch conveniently contains 4 servings
Grab-and-go handles for easy transport in an emergency
25 year shelf life
Total Weight: 21 lbs
Dimensions: 11.75" x 9.75" x 14.75"
Share
View full details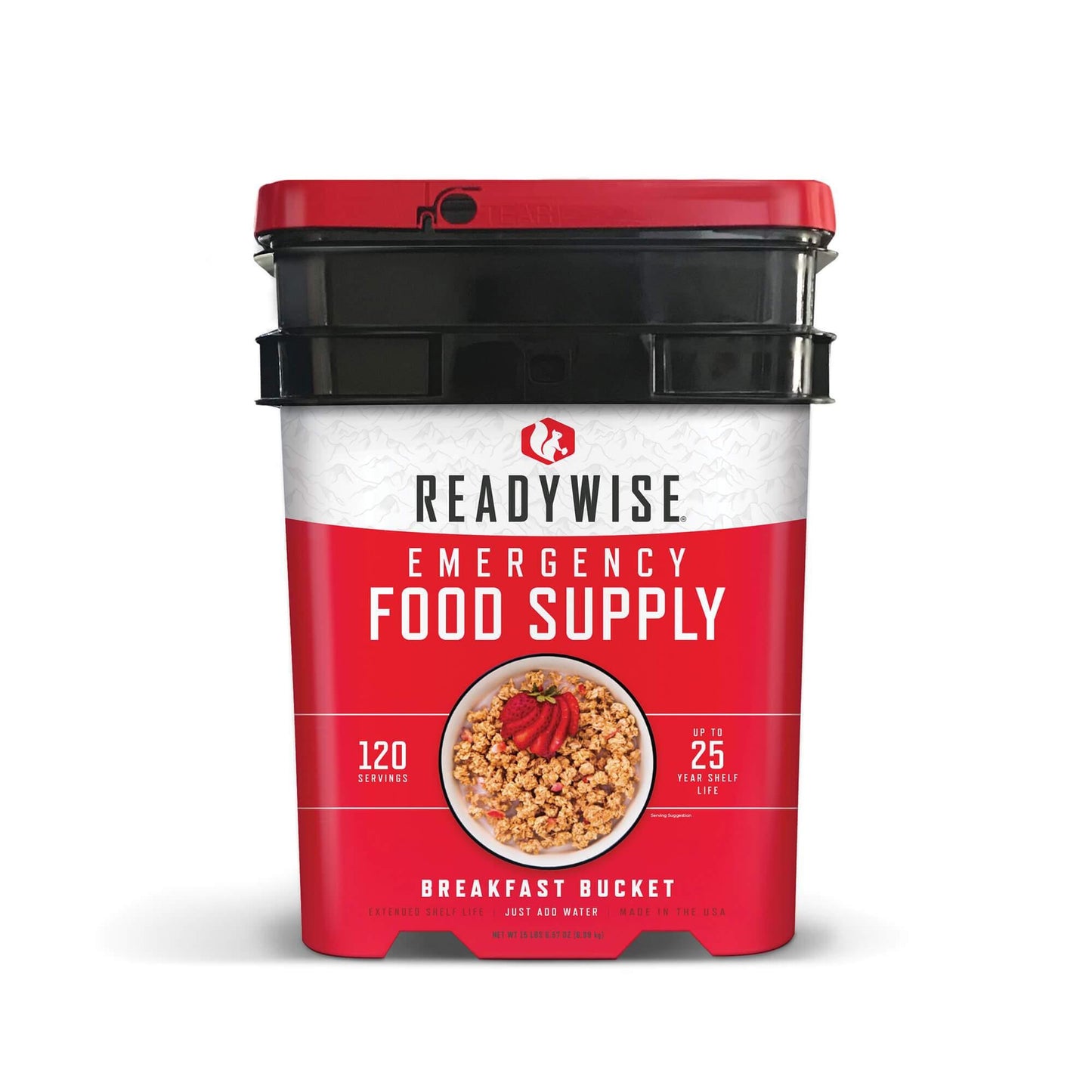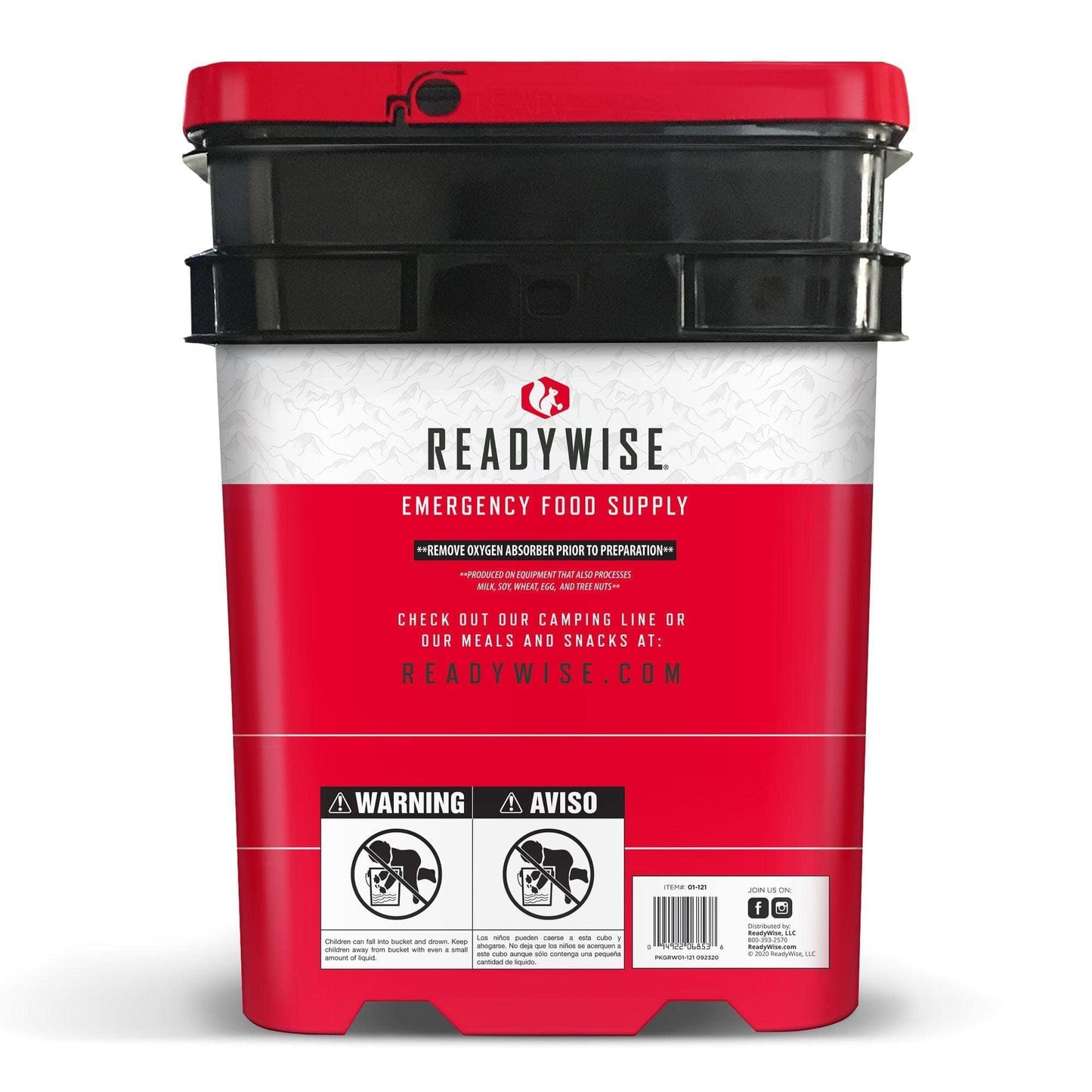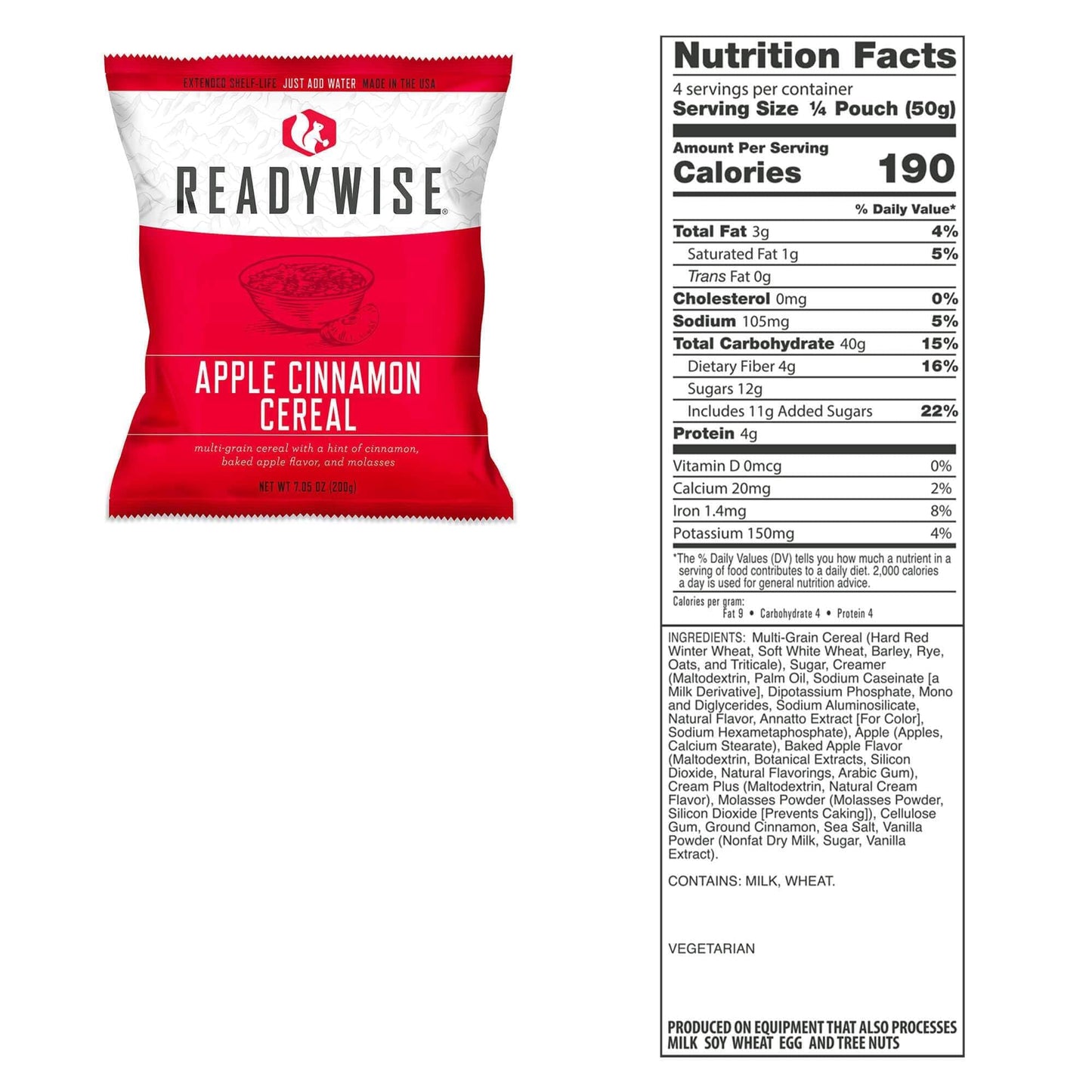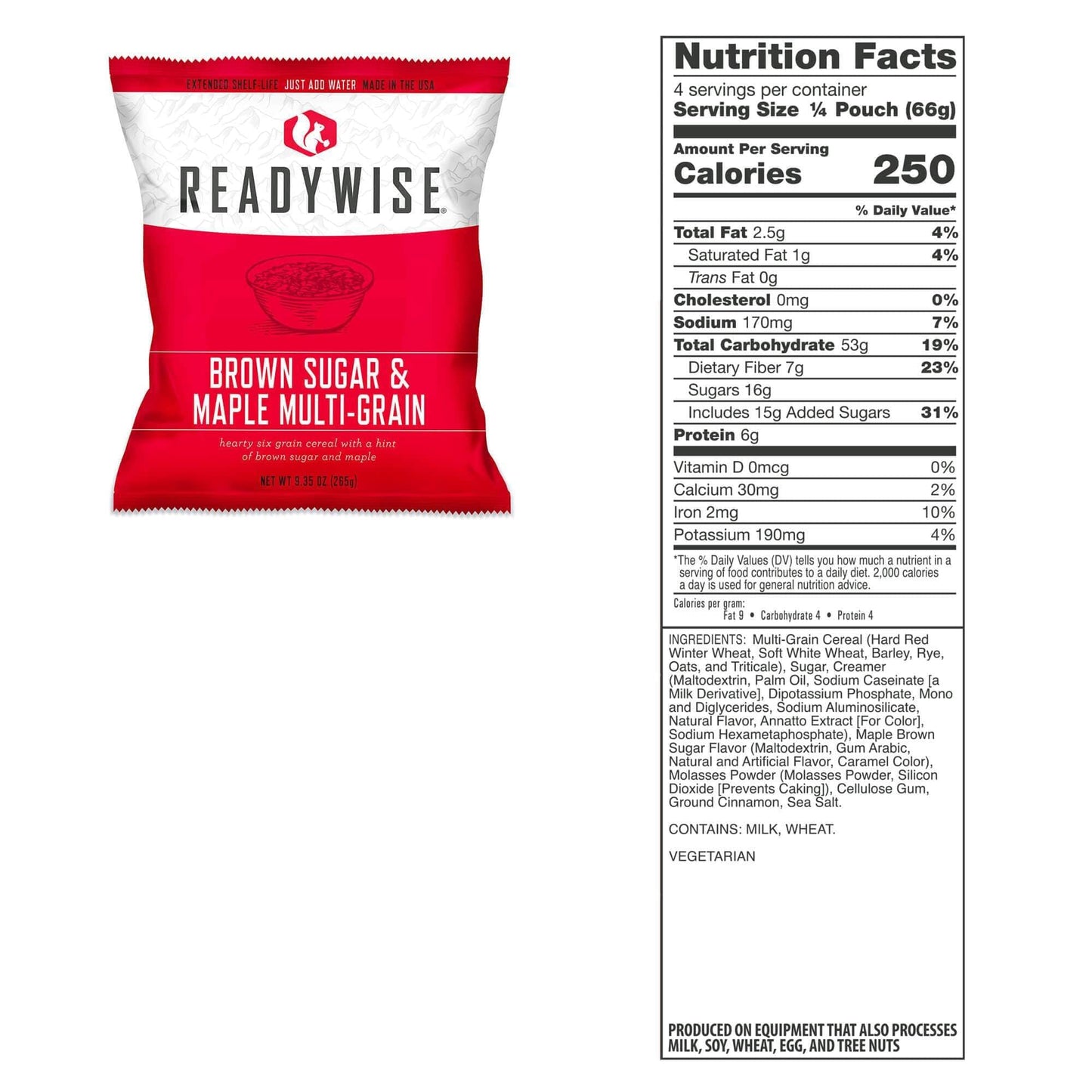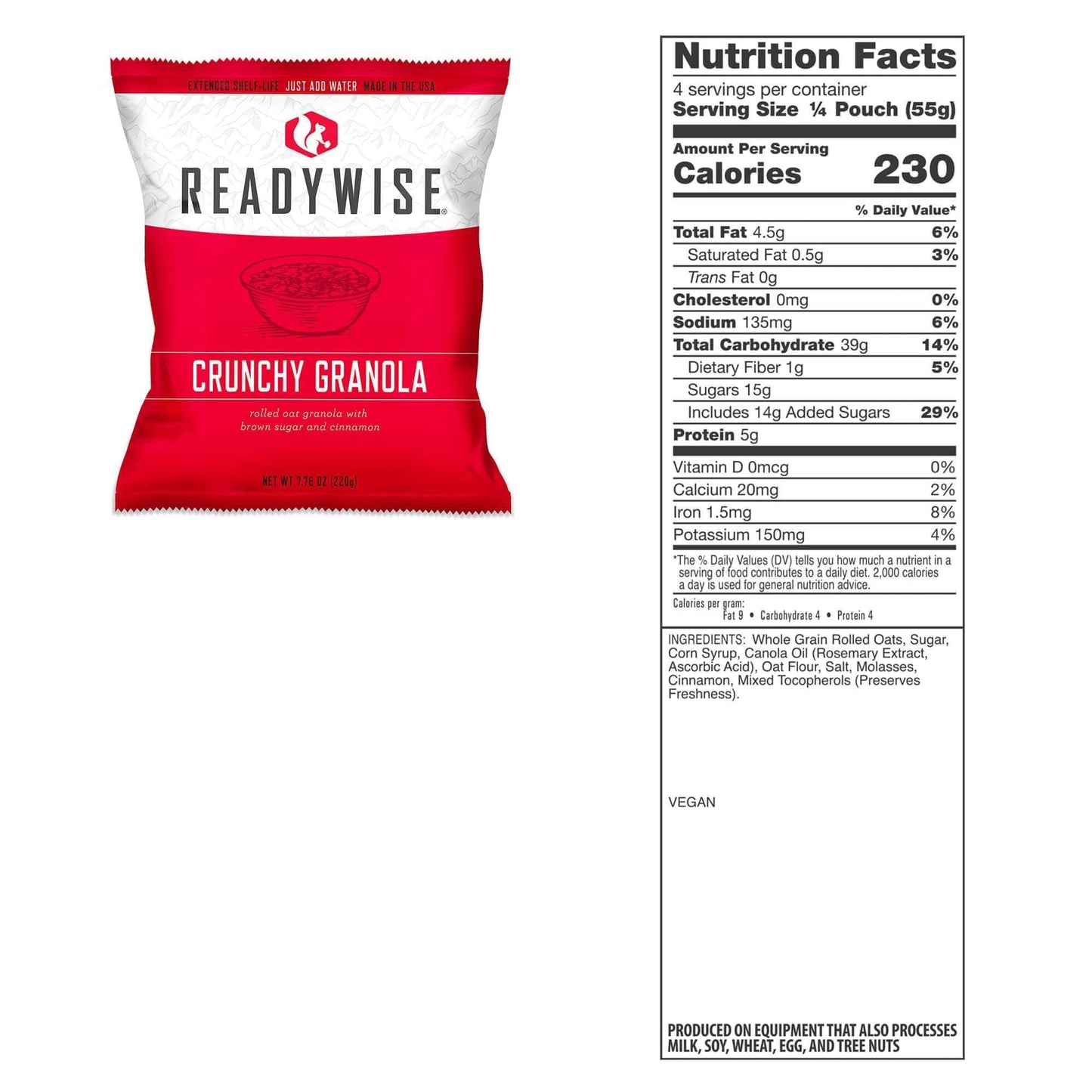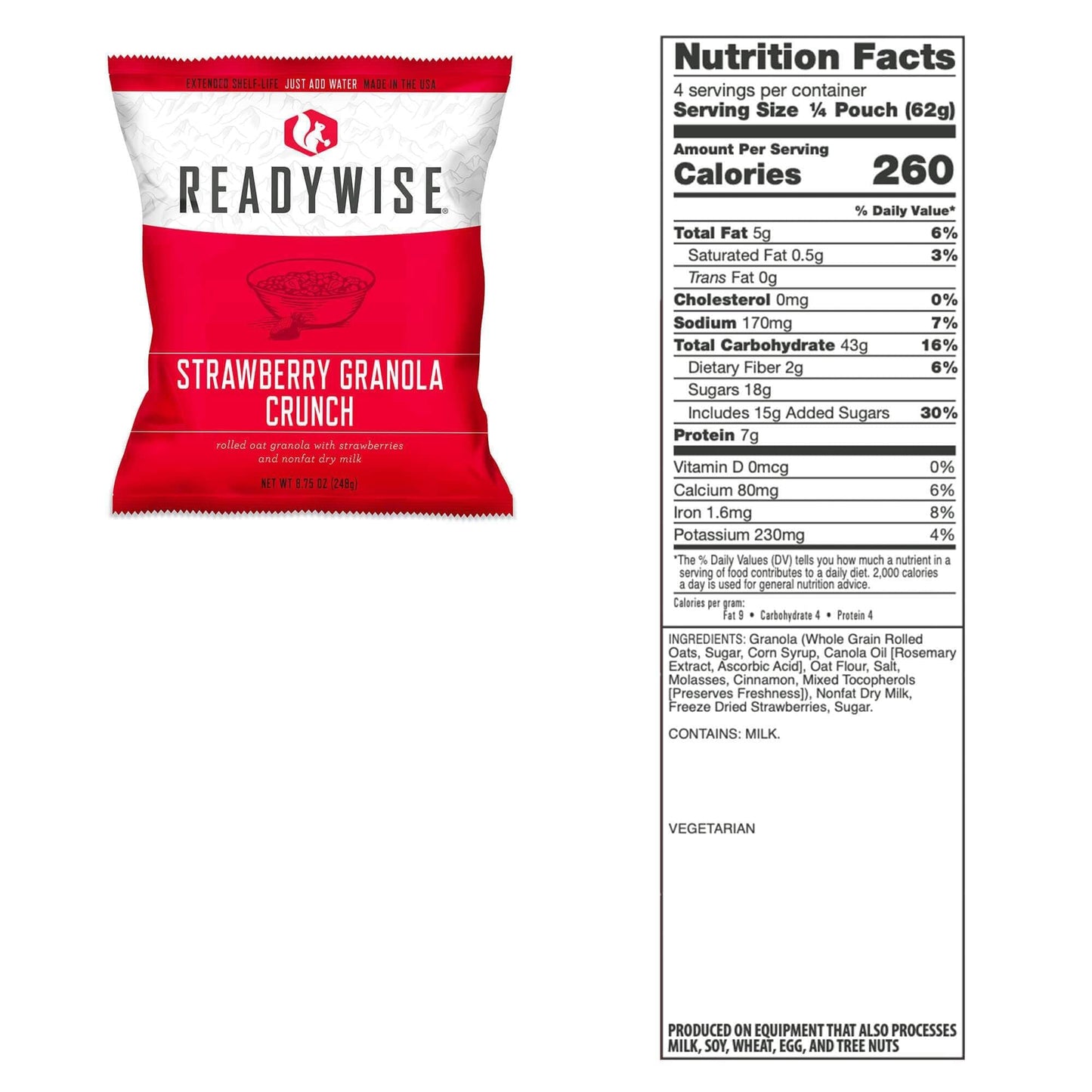 Collapsible content
Readywise

Where should I store my ReadyWise Food?

ReadyWise Food should be stored in a cool, dry place that is away from direct sunlight and sources of heat. It's important to keep the food in its original packaging, as the packaging is designed to protect the food from moisture, oxygen, and other elements that can cause it to spoil or degrade.

How are ReadyWise foods packaged?

The most common packaging types used by ReadyWise include:

Pouches: ReadyWise foods are often packaged in individual, lightweight pouches. These pouches are made of a durable, multi-layer material that protects the food from moisture, oxygen, and other elements that can cause it to spoil or degrade. The pouches are typically easy to open and reseal, making them ideal for single servings or small portions.
Cans: Some ReadyWise foods are packaged in metal cans. These cans are designed to be airtight, which helps to protect the food from moisture and oxygen. Canned foods also have a long shelf life and can be stacked or stored easily. However, they are less convenient for single servings or small portions.
Buckets: ReadyWise also offers food storage buckets, which are designed to hold multiple pouches or cans of food. These buckets are made of a durable plastic and typically come with a lid that seals tightly to keep out moisture and pests. Food storage buckets are ideal for long-term storage or emergency preparedness.

What allergens are contained in ReadyWise products?

Milk, soy, and wheat (gluten) are the common allergens found in ReadyWise products. For specific ingredients by product type please consult the nutritional labels.

How long do the meals last in storage?

25 years is the shelf life of all the Readywise Freeze dried foods.