Regular price
$140.00 AUD
Sale price
$140.00 AUD
Regular price
$161.00 AUD
Unit price
per
Sale
Sold out
$161.00
22 DIFFERENT HEIRLOOM/NON-GMO SEEDS HERMETICALLY SEALED FOR LONG-TERM STORAGE IN THIS ONE CAN!! IDEAL FOR EMERGENCY & SURVIVAL PREPAREDNESS!
Non Hybrid Hermetically Sealed Mylar Jumbo Size Seed Packets in a #10 Can plus 16 pages of detailed growing and harvest instructions.

A FANTASTIC MIX OF HEIRLOOM, NON-HYBRID, OPEN POLLINATED AND NON-GMO LONG TERM STORAGE SEEDS
Non-Hybrid/Heirloom seeds produce true to variety seeds to replant for future harvests. Hybrids will not always produce true to variety seeds, so they are not self-sustaining.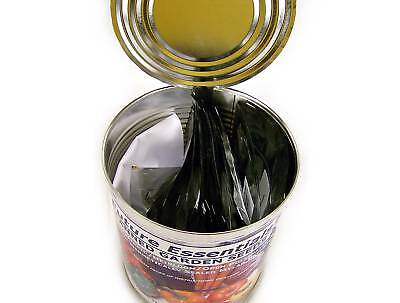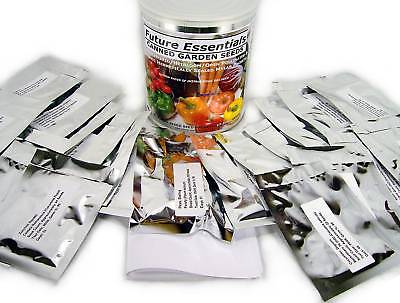 Harvest your own seeds for future plantings!!
EACH CAN CONTAINS;
Blue Lake Snap Bean 50+ Seeds
Buttercrunch Lettuce 250+ Seeds

Dark Red Kidney Bean 50+ Seeds
Green Broccoli 100+ Seeds
Cabbage All Season 100+ Seeds
Little Fingers Carrots 250+ Seeds
Golden Corn

 

50+ Seeds
Cantaloupe Hales Best Jumbo 50+ Seeds
Marketmore Cucumber 50+ Seeds
Cherry Belle Radish 50+ Seeds
Spinach 50+ Seeds
California Wonder Bell Pepper 50+ Seeds
Jalapeno Pepper 50+ Seeds
Watermelon 50+ Seeds
Yellow Crookneck Squash 40+ Seeds
Dark Red Beet 50+ Seeds
Fordhook Lima Beans 50+ Seeds
Sunflower 50+ Seeds
Beefsteak Tomato 100+ Seeds
Turnip Seven Top Turnip Greens 150+ Seeds
Collards Georgia Southern Collard Greens 150+ Seeds
Pumpkin 25+ Seeds
16 pages of details planting, growing and harvest instructions
Premium Quality Seeds; enough to plant more than an acre. These varieties have been recommended by Utah State University for short season climates; with excellent adaptability for most regions. These 22 easy to grow varieties have been especially selected for this application. Your unopened seeds should store for five years or more depending on storage temperature. These seeds have been carefully dried to their optimum moisture content to increase their storage life. The cooler the storage temperature, the longer the storage life of your seeds. Ideal for Emergency and Preparedness Storage. The best place to store your seed would be in a cool, dry, dark location such as a basement. For best results store unopened can in a refrigerator or freezer.
These seed packets give you more seed for your money and are uniquely heat sealed in a triple layered foil bag. Our seed packets allow you to reuse their bags by resealing the seeds with a hot iron. You can replant the seeds of these non - hybrid varieties for future harvests.
Designed specifically to include 22 easy to grow vegetable varieties that are recommended for short season climates with excellent adaptability for most regions of the Country.
MORE THAN 1,800+ PREMIUM QUALITY SEEDS – COMPARE THAT TO ANY OTHER PRODUCT ON THE MARKET TODAY FOR THE SAME PRICE!! Plus, many manufacturers will hide the lack of quantity behind weight measurements. How are we supposed to know how many Romaine Lettuce seeds are in a 3 gram packet like the competition sells for example? Who knows??? We tell you exactly how many are in each of our packets – and you'll find complete instructions in the can for ease of growing and harvesting.

Adequately dried seeds sealed in moisture barrier containers can be stored safely for a minimum of 5 years at 65 to 70 degrees Fahrenheit and much longer at lower temperatures. Each 5.6 degree drop in storage temperature will double the storage life of non-hybrid seeds. Critical factors are temperature and moisture content.
HIGHLIGHTS;
- 22 Popular Easy To Grow Garden Vegetables
- Special Open Pollinated 100% Non-Hybrid/Heirloom and Non-GMO Seed Selection
- Precisely Dried For Long Term Storage (5 Years +)
- Mylar Resealable and Reuseable Bags
- Triple Layered Foil Packets Sealed In a #10 Can For Extra Protection
- Complete With 16-Page Gardening-Made-Easy Instructional Guide


Up to TRIPLE THE QUANTITY OF SEED of most other packages we have seen on the market, and almost HALF THE COST!!!!

Packed recently. Packaged in accordance with the Federal Seed Act rules and regulations for hermetically sealed seeds. Sold by the Can.
MADE PROUDLY IN THE USA
Share
View full details