Regular price
$180.00 AUD
Sale price
$180.00 AUD
Regular price
$263.00 AUD
Unit price
per
Sale
Sold out
$263.00
Buy the Combo cans of Powdered Eggs and Nonfat Dry Milk in the lowest price.
Powdered Eggs

NATURALLY PROCESSED: 

Typical egg powder products are dried at high temperatures, the essence of the egg is lost, and the taste suffers as a result. We dry our egg crystals at lower temperatures to prevent the eggs from denaturing and to preserve the full flavour and functionality, so when you add water and cook them the way you like.

 

PROCESSING AND PREPARING: Eggs cook at as low as 144F degrees, so when typical egg powder products are produced at temperatures higher than 350F degrees, the essence of the egg is lost, and the taste suffers as a result. We dry our egg crystals at temperatures below 144F degrees to preserve the full flavour and functionality, so when you add water and cook them the way you like.

LONG SHELF LIFE: Our Dried Egg Whole Eggcrystals can be easily mixed with water or with dry ingredients as per the requirements of the recipe. It is also easy to use and store without any required refrigeration and has a shelf life of 7 years.

HEALTHY EGG RECIPES : Our Dried Whole Egg Crystals are extremely versatile and can be used to make a variety of dishes ranging from omelettes to cakes. Because of its simplicity, it makes cooking more efficient, effortless, and enjoyable. Whole Egg Crystals can be used as a filling meal or snack on their own without sacrificing flavor or nutritional value.

ANOTHER MESS-FREE OPTION: The benefit of using dehydrated whole egg crystals is that your dish will be much more nutritious and there will be much less mess. So whether you're pressed for time or just want your eggs quickly, this whole egg powder will save the day. 
Non fat Dry Milk
Mountain Essentials Non-fat milk powder, also known as skim milk powder, is a dairy product made by removing the fat from milk through a process of centrifugation and spray-drying.

The resulting powder has a much lower fat content than whole milk and is a popular ingredient in many food products, including baked goods, desserts, and confectionery.

Non-fat milk powder is an excellent source of protein, calcium, and other essential nutrients found in milk. It is often used as a substitute for whole milk in recipes to reduce the fat content of the final product.

And it is 100% real milk with vitamins A & D added and has a rich, fresh flavor. We package our nonfat instant milk in a #10 can.

Additionally, non fat milk powder has a longer shelf life than liquid milk and is easier to store and transport, making it a convenient ingredient for food manufacturers.

Overall, non fat milk powder is a versatile and nutritious ingredient that can be used in a variety of applications to provide a low-fat alternative to whole milk.
Share
View full details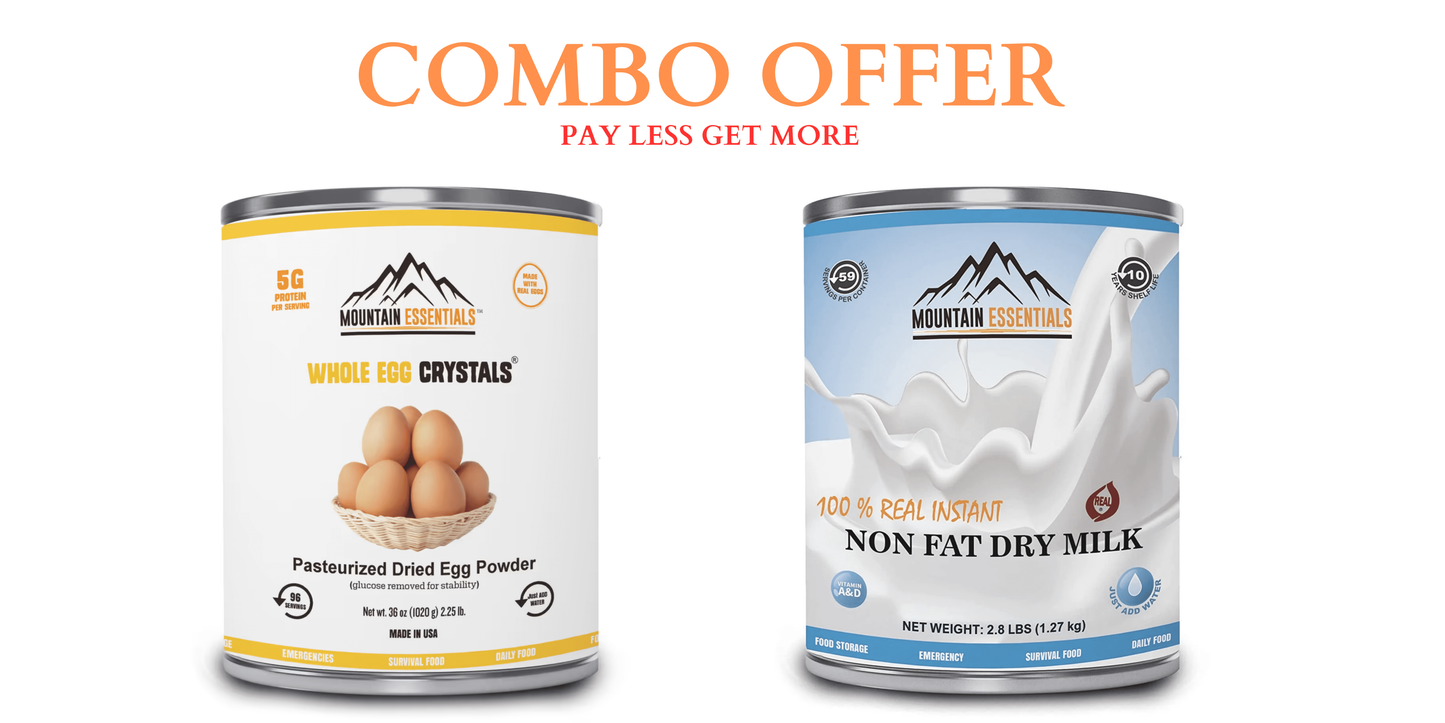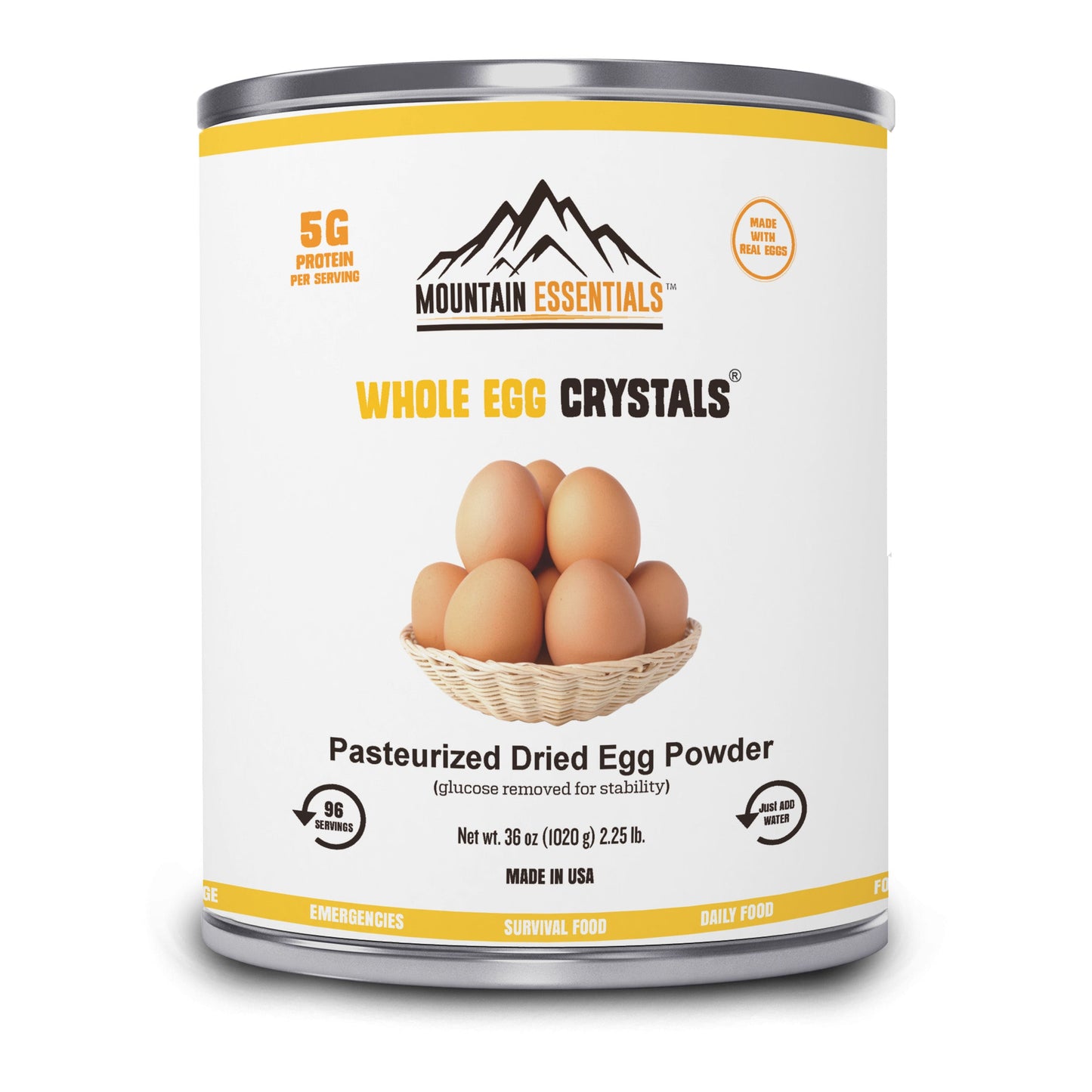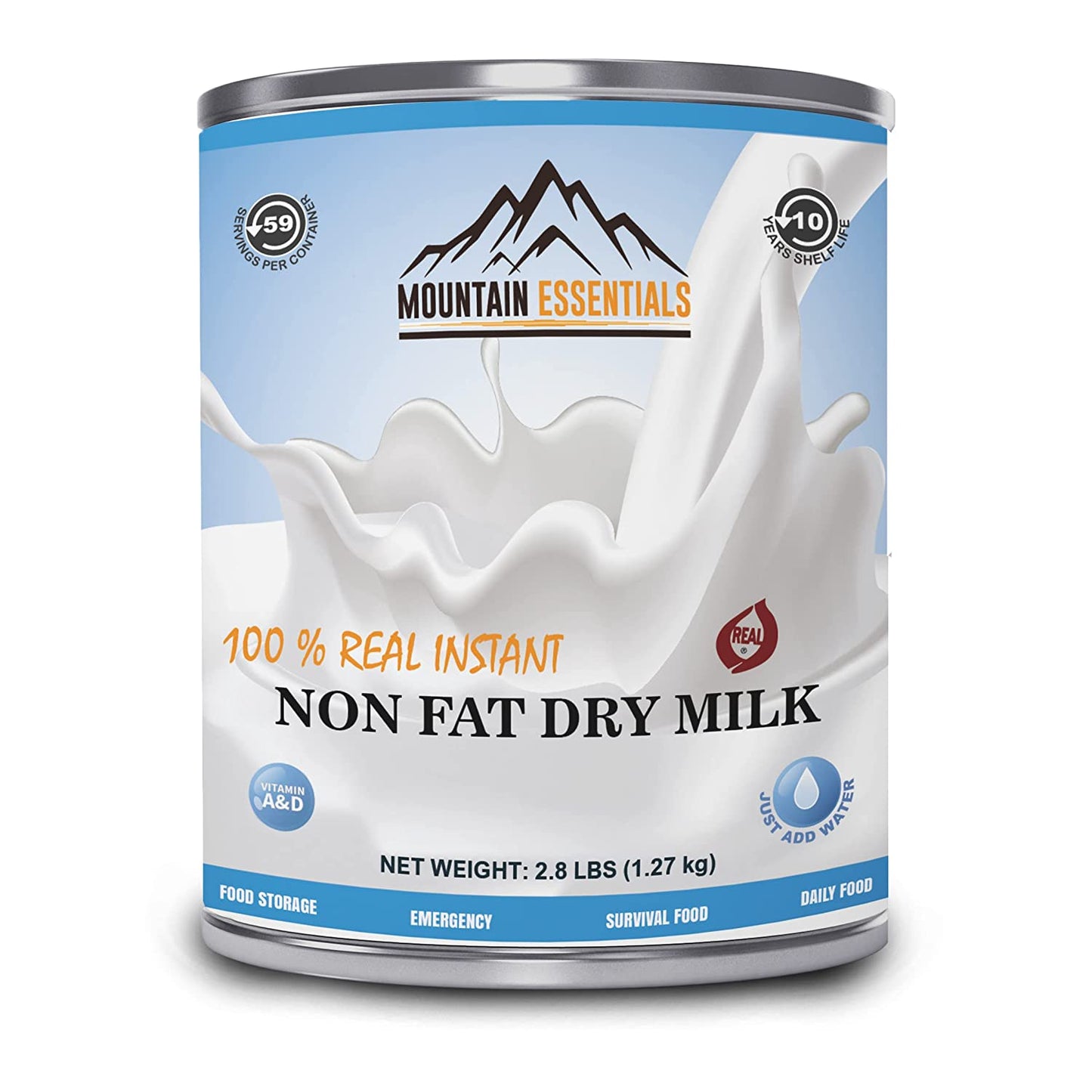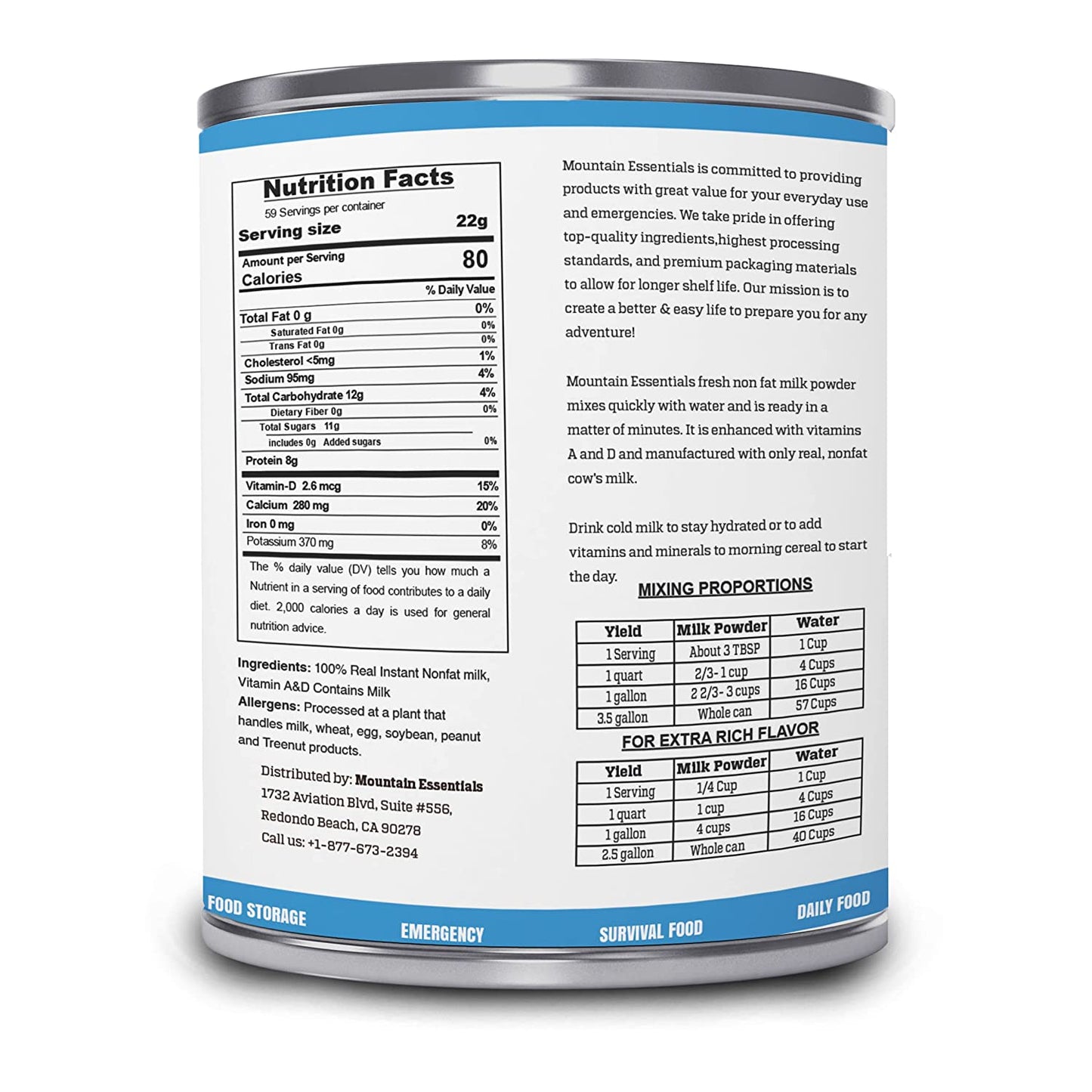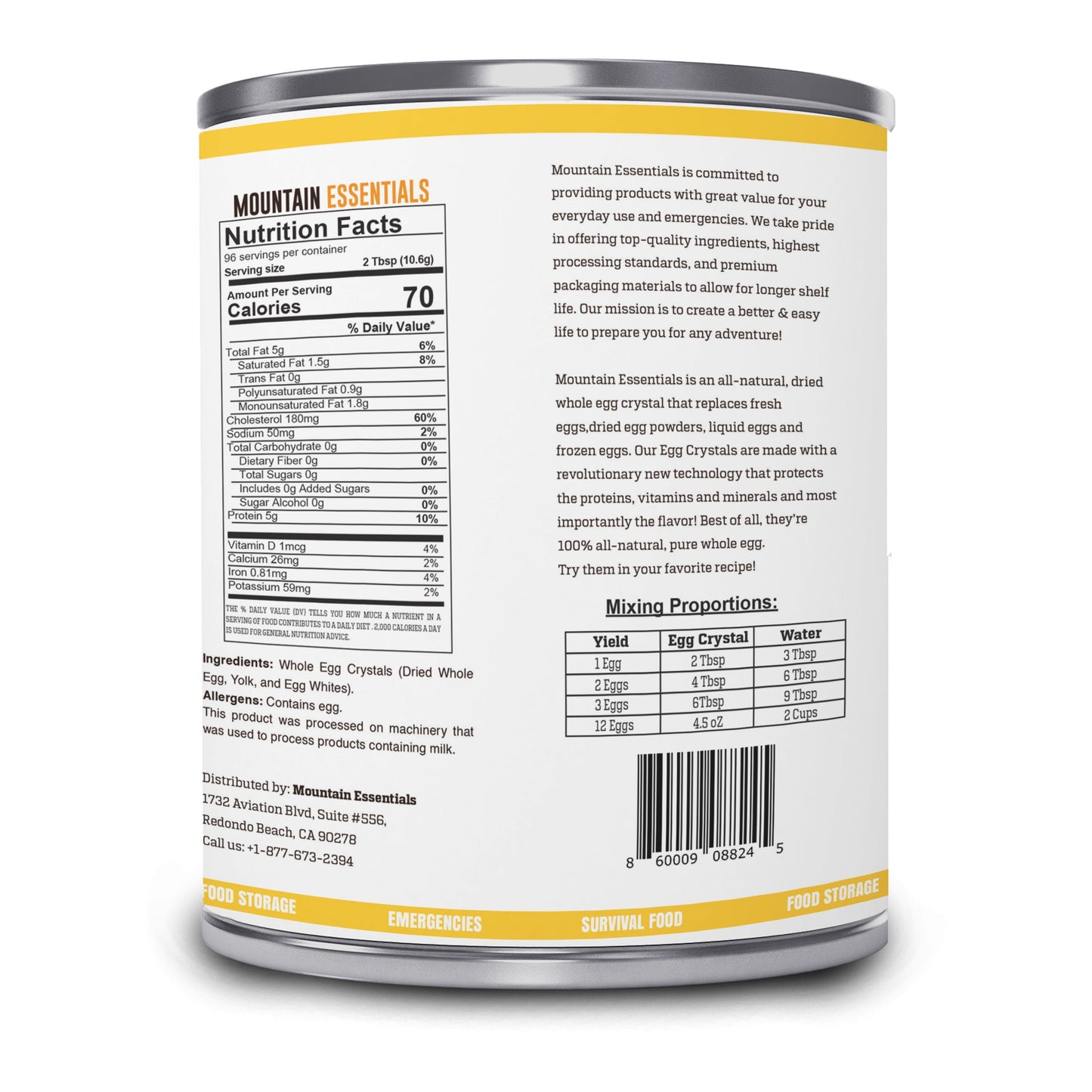 Collapsible content
Mountain Essentials

Welcome to Mountain Essentials! We offer a wide variety of products that are essential for your daily needs. Our collection includes grain mills, powdered eggs and skim milk powder, all made with the highest quality ingredients and craftsmanship. With our selection, you can be sure to have the best-tasting meals in no time.

Our grain mills are designed with an easy-to-use grind selector that allows you to customize your meal size with just a few turns of the handle. The process is quick and simple, ensuring that you get freshness without any hassle.

Powdered eggs are also available from Mountain Essentials; Powdered eggs have been pre-scrambled so all you have to do is heat them in a pan over the fire or stovetop. They're the perfect addition to any outdoor meal – no cracked shells required!

 We offer skim milk powder which is essential for anyone looking to maintain a healthy lifestyle or watch their weight without sacrificing flavor! This product contains only pure natural ingredients and no added preservatives making it ideal for those who want all the nutritional benefits without any unhealthy side effects associated with processed food products.

At Mountain Essentials, we make sure every one of our products meets our strict standards so you can trust us when it comes to providing only quality items at affordable prices!