Regular price
$1,852.00 AUD
Sale price
$1,852.00 AUD
Regular price
$2,006.00 AUD
Unit price
per
Sale
Sold out
$2,006.00
Bixpy J-2 Outboard Kit | Electric Marine Motor

the latest and most powerful jet propulsion system from Bixpy. With 33lb of thrust, the J-2 Motor combined with the waterproof and wireless PP-378 Outboard Battery can power a wide range of personal watercraft.
Whether you own a kayak, canoe, paddle board, float tube, dinghy, inflatable pack-raft or any other small watercraft, the Bixpy Outboard Kit is your solution for an ultra-light and adaptable package to power your boat.
Installing the Bixpy Outboard Kit is a breeze thanks to the wide range of Plug & Play Bixpy Adapters. These adapters fit a large variety of small and large brand-name boats.
Don't know which adapter is right for you? Check out bixpy.info to easily find the right adapter for your watercraft.
With the Bixpy Outboard Kit, you can stay out longer, explore new waters, fish more, troll for hours, or just get home effortlessly at the end of a long day on the water. Be prepared for any weather conditions and give yourself that extra push to get back to shore with ease.
Get the most out of your watercraft and upgrade to the Bixpy J-2 Outboard Kit today!
FEATURES:
Offers top speed for about 80 minutes and slower speeds for up to 12 hours.

Weighs only 10 lbs, including battery and motor, making it ultra-light.

Operates via wireless remote control with 12 forward speeds and 3 reverse speeds.

Comes waterproof and dirt-proof with corrosion-resistant components.

Equipped with an Outboard Power Pack and remote control that can float in case of accidental slippage.

Has a built-in wire harness with a 1.5m (5') power cable included for easy connection to your adapter.
INCLUDES:
Bixpy J-2 PowerShroud Motor

Bixpy Outboard Battery (378 Wh)

Wireless Remote Control

Magnetic kill switch with a floating leash

Universal 100 - 240V Wall Charger

Allen key to open propeller shroud for cleaning and repairs

5ml tube of di-electric grease

Quick Start User Manual

Bixpy Vinyl Decal
SPECIFICATIONS:
The combined weight of motor and battery: < 10 lb

Motor size: L 10.75" (281mm) x W 3.59" (91mm) x H 5.75" (143mm)

Motor output: 450 watts - 33 lb of thrust

Cable length: 60" (150cm)

Depth rating: 100 ft (30 m)

Battery output: 25.2 V - 378Wh

Battery size: L 12" (304mm) x W 9" (228.6mm) x H 3.5" (88.9mm)
Share
View full details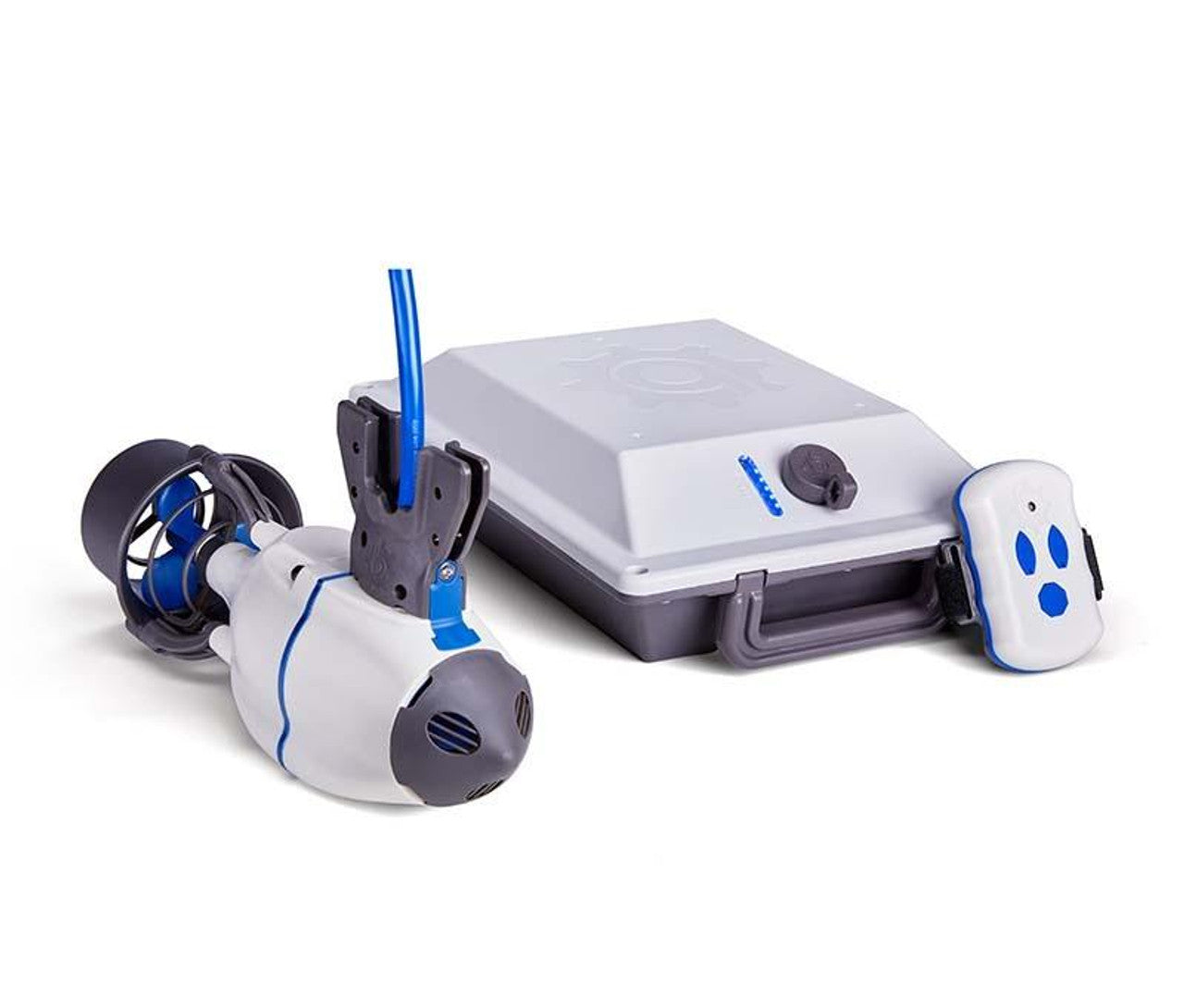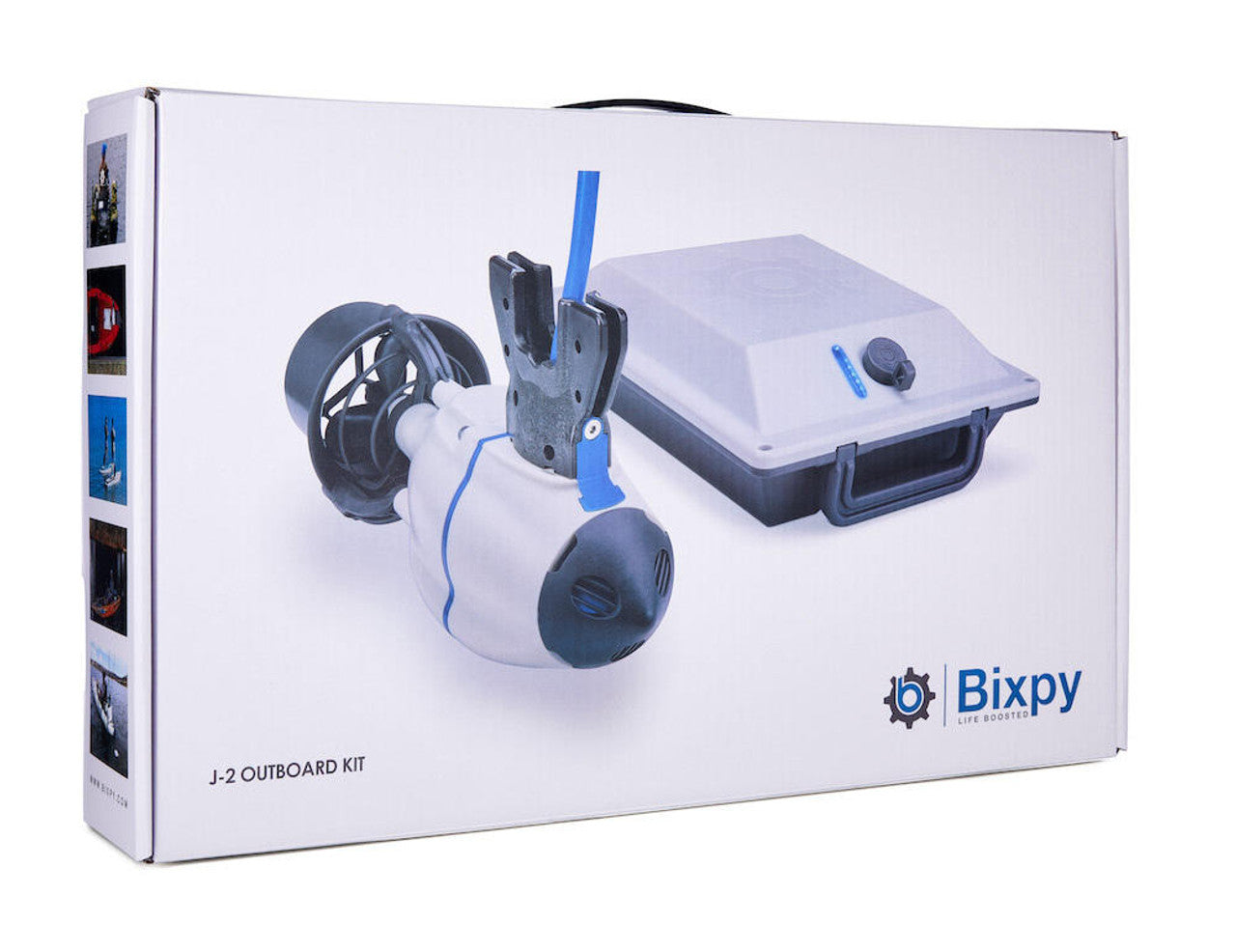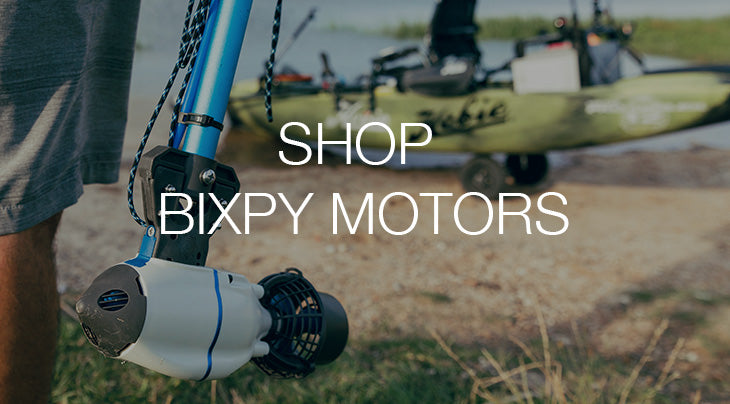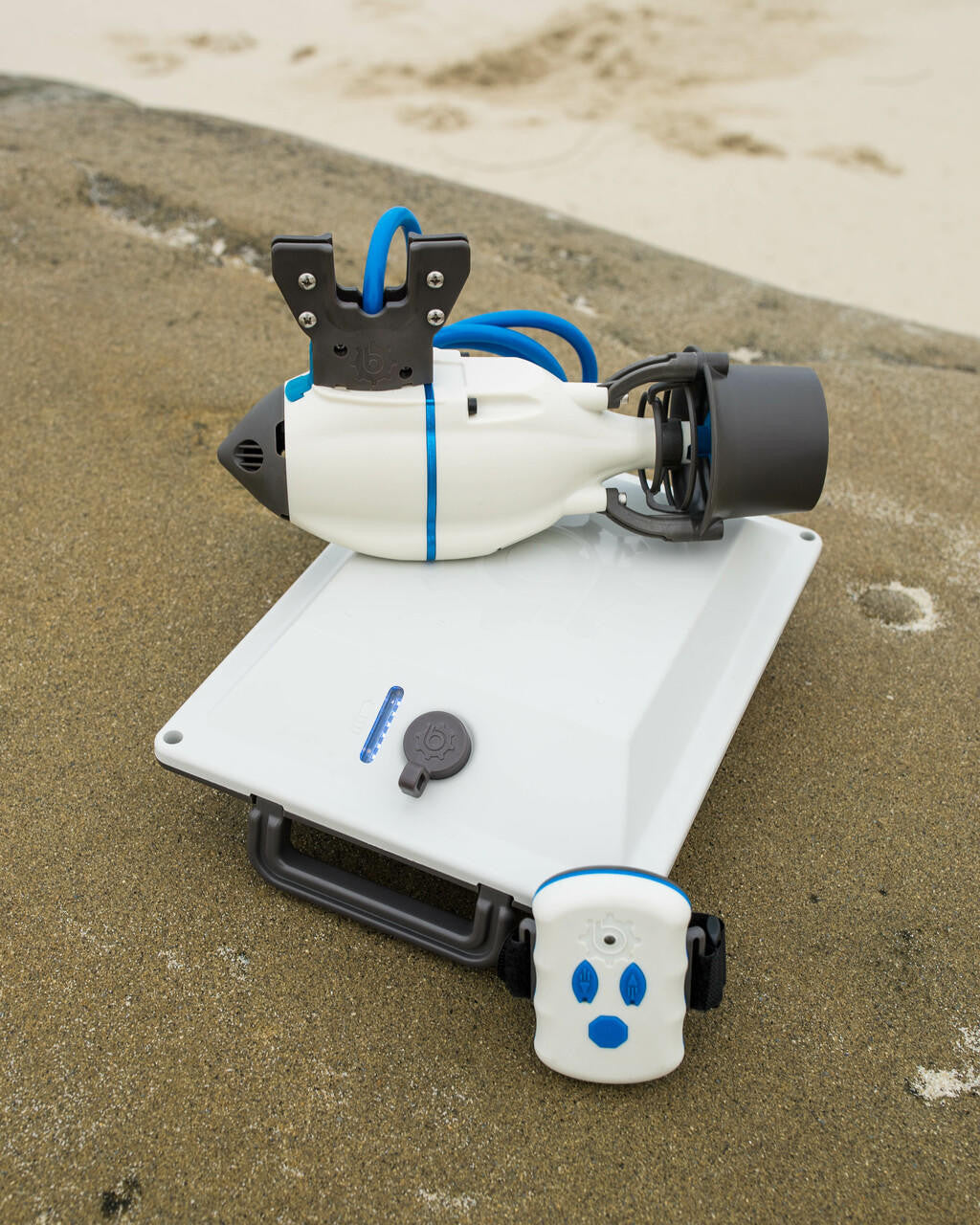 Collapsible content
Know our product

High-Performance Water Propulsion Systems from Bixpy


Want to propulsion your kayak, stand-up paddleboard, or small watercraft with a reliable and efficient system?


Our Bixpy Motors have a range of high-performance motors and accessories designed to make your time on the water more enjoyable and efficient.

Outboard Motors for Kayaks and Small Watercraft

Our range of outboard motors for kayaks and small watercraft includes the Bixpy Jet(J-2 Motor), a versatile and portable water propulsion system that can be attached to almost any watercraft. 80 minutes at top speed and up to 12 hours at slower speeds, the Bixpy Jet is perfect for kayakers, fishermen, and water sports enthusiasts looking to cover more ground on the water.

Electric Outboard Motors and Trolling Motors

Our range of electric outboard motors includes the Bixpy Jet (J-2 Motor), as well as a range of other electric motors designed for small boats and watercraft. We also offer a range of trolling motors and batteries, perfect for fishermen looking to stay in one spot or navigate through shallow waters.

PowerPole Adapter and Accessories

we also offer a range of PowerPole & Rudder adapters and accessories. These innovative anchors are designed to help you stay in one spot on the water, even in strong currents or windy conditions. With a range of sizes and styles to choose from, you're sure to find the perfect Adapter for your needs.


Choose Bixpy Motors for Your Water Propulsion Needs

At Bixpy Motors, we're dedicated to providing our customers with high-performance water propulsion systems and accessories that make their time on the water more enjoyable and efficient. With our range of outboard motors, electric motors, trolling motors, and accessories,

you're sure to find the perfect option for your needs. Shop now and experience the Bixpy Motors difference.